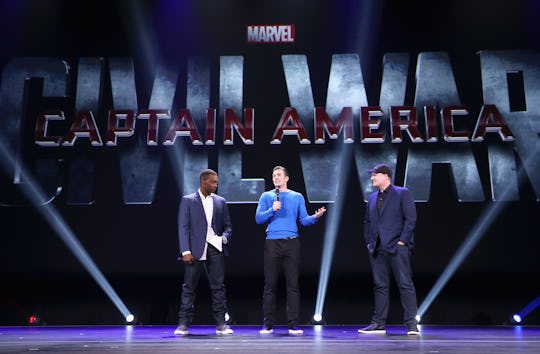 Jesse Grant/Getty Images Entertainment/Getty Images
When Does 'Captain America: Civil War' Come Out? Get Ready For More Chris Evans
Whether you're on Team Iron Man or Team Cap, you probably can't wait until Captain America: Civil War finally comes out in theaters. Filled with so many Avengers and new characters, Civil War is practically The Avengers 2.5. Although it'll be strange seeing our favorite superheroes fighting each other, instead of one common enemy, Civil War is sure to be a great film, filled with betrayal, typical Tony Stark sarcasm, and kick-ass fighting scenes.
The superhero film is set to release on May 6, although die hard fans will probably be filling theaters on the Thursday night before. Fans also have the opportunity to attend a Captain America movie marathon on May 5 to refresh their memories before they see the new film. Tickets for the movie went on sale about a month ago, and of course, some shows are already sold out with new shows being added.
There's no doubt Civil War will be a blockbuster hit. After the release of the second trailer back in March, which included a peak at the new Spider-Man, fans began tweeting which side they were on and Twitter obliged by adding emojis to go along with the hashtags #TeamIronMan and #TeamCap. Now, fans are reaching for any Civil War news they can get their hands on while also being wary of spoilers.
Thankfully, for those of us that want to watch so many clips it feels like we're watching the movie, Chris Evans is going to show a new sneak peak from the film at the MTV Movie Awards on Sunday, April 10. Of course, we have no idea what the clip will show but personally, I'm hoping for a good fight scene. Either that moment in the trailer where Bucky and Cap team up against Iron Man, or maybe that huge face off with everyone (although maybe that'd be giving too much away?).
No matter what the clip is, it's sure to be epic and leave us all wanting more and wishing it was May already. I plan on watching the clip at least a 100 times until Civil War hits theaters. Until then though, I'll just keep watching the epic trailer.