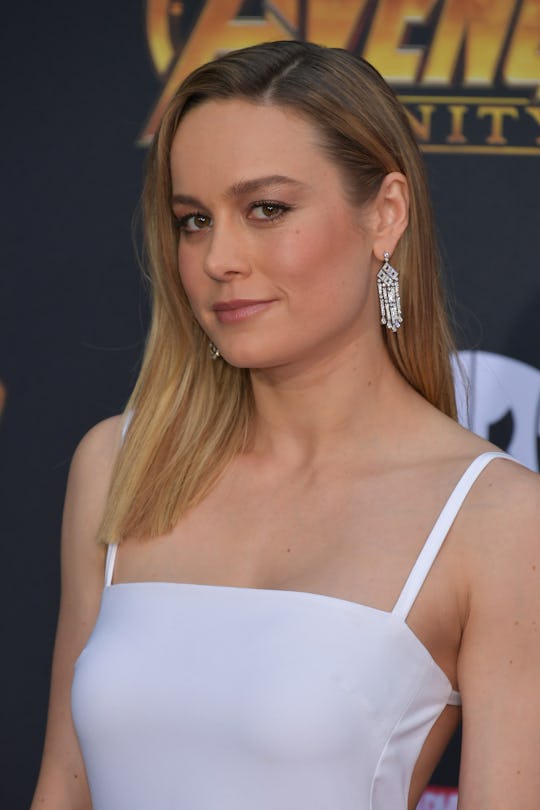 Neilson Barnard/Getty Images Entertainment/Getty Images
Here's When Fans Can Expect 'Captain Marvel' To Hit Theaters
As always the Marvel Cinematic Universe slate is pretty packed and there are number of films planned for the rest of this year and next. However, the one people seemed most excited about is Captain Marvel. The movie will be the first MCU film that stars a female superhero and it's long overdue. Since many people want to see the movie as soon as it comes out, it shouldn't be surprising that some are already wondering: when does Captain Marvel premiere?
Surprisingly, there's already an expected premiere date. According to Variety, the film is expected to release on March 6, 2019, however that date is subject to change. For now though that's the plan and then following Captain Marvel, the fourth and final Avengers film is expected to be released a few months later on May 3, 2019. It makes sense that Captain Marvel would come before Avengers 4 since Brie Larson who plays Captain Marvel is slated to appear in Avengers 4.
Besides the fact that this will be the first Marvel movie to center around a female superhero, it will also be the first Marvel movie to take place in the '90s. Kevin Feige, producer and president of Marvel Studios, told Variety that the film will be filled with '90s nostalgia, including the classic video stores that quickly went out of style with the introduction of Netflix and online streaming.
In addition to the nostalgia, Feige also revealed that the new movie will follow Nick Fury (Samuel L. Jackson) who "thought the Cold War is over [so] the best days are behind him." Fiege added, "He encounters certain things in this movie. It sets him on that path that leads us to where we are 19 films later." Thus, it looks like we won't just be getting Captain Marvel's origin story, but Nick Fury's as well.
Although Captain Marvel will have the same level of action as you can expect from the other MCU movies, it will also have a great deal of comedy as well. Captain Marvel screenwriter Geneva Robertson-Dworet told Entertainment Weekly:
Captain Marvel has a very funny voice, and it's more of an action-comedy, more like what we were talking about doing in the first draft I wrote for Tomb Raider...I love funny female characters, so as Tomb Raider got more serious, I got even more committed to the idea of Captain Marvel being hilarious.
Robertson-Dworet also noted that the comedy of the film wasn't just of her own invention but that Carol Danvers, Captain Marvel's alter ego, is "one of the funniest comic book characters." Robertson-Dworet described Carol as being "sassy" and "a smartass" who "won't take sh*t from anyone." Carol sounds like a great character and I personally can't wait to meet her.
What also makes Captain Marvel so special is it's a very female-driven movie. Working with Robertson-Dworet is Anna Boden, who is the co-director for the film and the MCU's first female director. She'll be co-directing with her Half Nelson and Mississippi Grind collaborator Ryan Fleck. Also starring in the movie alongside Larson and Jackson is Gemma Chan as Doctor Minnerva, a.k.a. Minn-Erva, the main antagonist in the film. Additionally, Jude Law will be starring in the film as the male lead opposite Larson, according to Variety.
Although there's still quite a bit of a wait until Captain Marvel comes out, fans are keeping their fingers crossed that they'll get a sneak peek at the character in Infinity War, though there's been no confirmation about the character making an appearance. That being said, it never hurts to stick around after the credits just to make sure you don't miss an important post-credits scene. Better to be safe than sorry, right?
Check out Romper's new video series, Romper's Doula Diaries:
Watch full episodes of Romper's Doula Diaries on Facebook Watch.