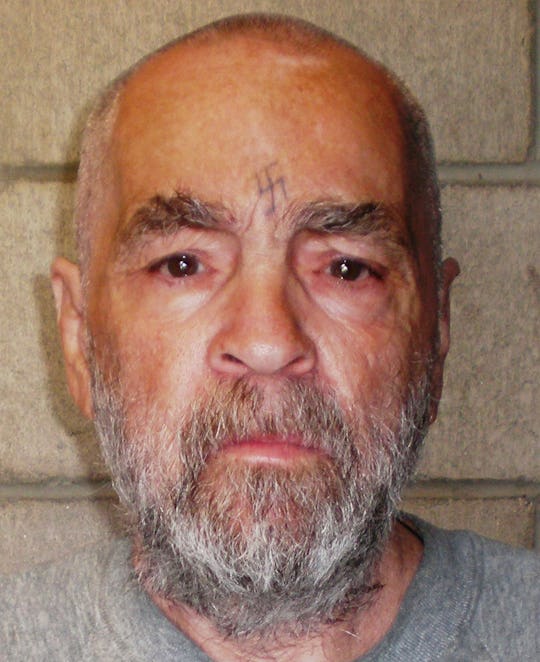 Handout/Getty Images News/Getty Images
Charles Manson Is Serving Serious Time In Prison
Charles Manson did two stints in prison before being released and creating the Manson Family cult. After ordering his followers to murder seven people in 1969, including the notorious murder of Sharon Tate, Manson was convicted of first-degree murder for directing the deaths of the Tate and Rosemary LaBianca victims, though he maintains that he never ordered anyone to do anything. It's pretty much assured though that Charles Manson is never getting out of prison. He was originally sentenced to death, but California briefly abolished capitol punishment in 1972, and Manson's death sentence was brought a life sentence. He has also been denied parole 12 times, most recently in 2012. (California has since reinstated the death penalty BTW.)
He's spent time in a few different facilities, but is currently at the Corcoran State Prison in the Central Valley of California. At 82 years old, he's currently being housed in the Protective Housing Unit, which is where the prison houses inmates "who cannot be safely housed on a general population yard," according to a statement to Romper from Terry Thornton, a spokeswoman for the California Department of Corrections and Rehabilitation.
According to The Los Angeles Times, he has been reprimanded for having cell phones and possessing weapons. Guards also have reported that he's allegedly spilled hot coffee on a prison staffer, threatened and assaulted guards and fellow prisoners, tried to set a mattress on fire, and start a flood. Thornton told The Los Angeles Times, "Suffice it to say that he cannot be described as a model prisoner."
He's also had some erratic and violent outbursts, which, if you watch any videos of his trial, won't surprise you.
In January, Manson was transferred to Mercy Hospital in Bakersfield, California to undergo surgery for serious gastrointestinal bleedings. The hospital often performs surgeries on inmates. Reported, Manson initially refused to have surgery, but then changed his mind. After a few days recovering in the hospital, he was back in Corcoran, though the prison spokespeople haven't confirmed the state of his condition due to privacy laws.
Although Manson hasn't been found eligible for parole, some of his convicted followers have been. Bruce Davis was found "suitable" to be released from a men's facility in San Luis Obispo just this February, after previously being sentenced to life for the murders of musician Gary Hinman and stuntman Donald "Shorty" Shea in 1969 (though he wasn't involved in the Tate/LaBianca murders). Former follower Patricia Krenwinkel, who holds the record for the longest-serving female inmate in California has been denied parole 13 times in the past and last December, the parole committee delayed making a decision about her release and will meet again in June to continue the hearing.
Manson's next chance at parole is in 2027. Given his age and health, it's not likely that he'll ever be released. But if he makes it to 92 years old, many of us might live to see the day Manson makes it outside. I wouldn't hold my breath though.