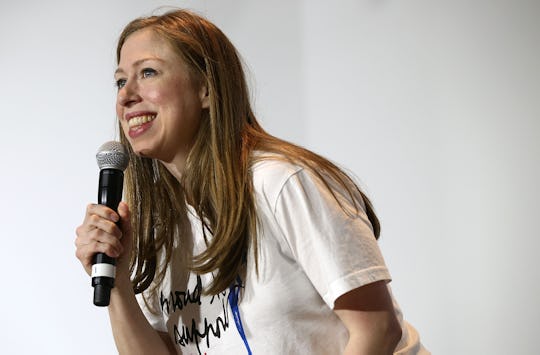 Win McNamee/Getty Images News/Getty Images
Here's When You Can Get Chelsea Clinton's Book
Chelsea Clinton, daughter of Bill and Hillary Clinton, has always been a huge advocate for young girls. Now she's putting pen to page to write an illustrated children's book telling the stories of women who never took no for an answer. This will be a great read for kids (especially young girls) so I'm sure parents out there are asking, when will Chelsea Clinton's children's book come out?
When Sen. Elizabeth Warren attempted to read a letter written by Coretta Scott King to oppose the nomination of Jeff Sessions as attorney general, she was formally silenced by Republicans. Senate Majority Leader Mitch McConnell explained the decision was made because "She was warned. She was given an explanation. Nevertheless, she persisted." But that could not silence Hillary Clinton, who used those same words to show support for Warren.
Chelsea took to social media to show solidarity with Warren, her mother, as well as all women who persisted in the face of struggle. Now, she's writing a children's book about it. The book will tell the stories of 13 American women from different time periods. They will be depicted as "tiny feminists" — children your kids can relate to.
For those who are super excited about the book, you won't have to wait long. She Persisted is set to be released on May 30, 2017.
The list of women featured in the book includes Harriet Tubman, Helen Keller, Clara Lemlich, Nellie Bly, Maria Tallchief, Claudette Colvin, Ruby Bridges, Margaret Chase Smith, Sally Ride, Florence Griffith Joyner, Oprah Winfrey, and Sonia Sotomayor.
Some of these names are wonderful surprises: seeing the first Hispanic Supreme Court Associate Justice who is currently in office shows a great role model young girls can aspire to and learn more about. There is also one more woman who will be featured but will remain a surprise.
She Persisted is available for pre-order on Amazon, and costs $17.99. A Kindle version of the book is also available for $10.99. The book is being published by Penguin Random House, which has also published George W. Bush's bestseller Portraits of Courage. The illustrator of the book is Alexandra Boiger, who has drawn more than 20 picture books. Boiger was born in Munich, Germany, and published her first illustrated book, While Mama Had A Quick Little Chat, in 2005.
Clinton said in a statement that she "wrote this book for everyone who's ever wanted to speak up but has been told to quiet down — for everyone who's ever been made to feel less than." She added:
The thirteen women in She Persisted all overcame adversity to help shape our country — sometimes through speaking out, sometimes by staying seated, sometimes by captivating an audience. With this book, I want to send a message to young readers around the country—and the world—that persistence is power.
She Persisted won't be the first time Clinton has written a book to inspire children. And since Clinton has consistently advocated for young girls, this book should come as no surprise. But it's definitely a welcome one.