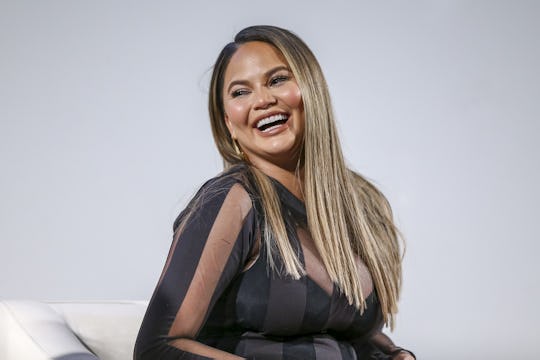 Rich Polk/Getty Images Entertainment/Getty Images
Chrissy Teigen's Target Line Is So Exciting, But Don't Run To The Store Just Yet
Brace yourselves: in case you haven't heard, cook, cookbook author, model, excellent Twitter follow, and supermom Chrissy Teigen is launching a line of kitchen and tableware at Target. It's very exciting weekend news, but once you see all of the items, you're going to wonder, when does Chrissy Teigen's Target line go on sale? How long will you have to wait to get these adorable items for yourself?
Luckily for everyone, the wait is relatively short. Target announced the collaboration on its corporate site and noted that the line, called Cravings by Chrissy Teigen (naturally), will be sold exclusively at Target and will launch in just a few short weeks, on September 30. So although, yes, you'll have to wait for a little while, the date is really coming up pretty quickly, which unfortunately doesn't actually give you much time to amass a Cravings by Chrissy Teigen emergency fund.
The line is going to have a ton of things that you'll love to have in your kitchen, particularly if you love cooking Teigen's recipes because the idea is that these tools and equipment are the sorts of essentials that Teigen herself uses to get dinner on the table at home. Whether you're looking for upgraded prep tools — which are essential for a happier and easier cooking experience — pots, pans, and other cooking equipment to do the real work, or serving pieces that will make mealtime entertaining (or eating all on your own) more fun and stylish, the line might have just what you're looking for.
Teigen's line will include dishes, pots and pans, knives, serving pieces, baking dishes, cooking utensils, and more. Teigen told Target that her line started with what she considers an essential knife. "The 'Go To' knife really is my everything! It was the first thing we created," Teigen said. "I have so many knives in my own kitchen, but always found myself gravitating towards my seven-inch chef's and serrated knives. I always wished they would morph into one, so we did just that. It slices juicy tomatoes, steak, and rustic loaves of bread perfectly. I truly love it."
And though, of course, anything sold at Target isn't exactly one-of-a-kind, her super-cute tableware feels like something that will help you express your personality and sense of style.
"I wanted to make sure everything in the line felt unique and special, and each piece has little marks of character — like raw edges and flecks of glaze that differ from piece to piece," she told Target. "They're timeless but have character, and they look beautiful both on a table and stacked on a shelf."
And as if her new home line wasn't enough, Teigen's second cookbook, a follow-up to her first, called Cravings: Hungry For More, will hit stores this month as well. You'll be able to pick up everything you need to cook your way through the new book (and the book itself) at Target once the line officially launches. So now is a great time to start saving your pennies because you don't have much time — you're going want every single piece in the collection.