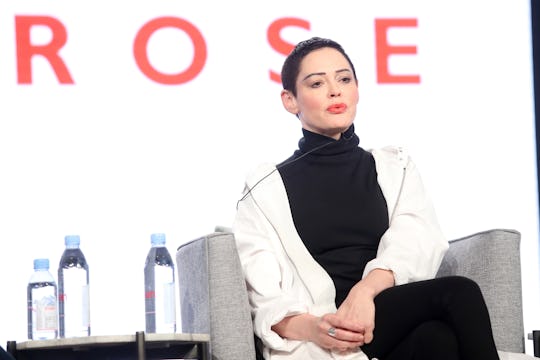 Frederick M. Brown/Getty Images Entertainment/Getty Images
Is 'Citizen Rose' Coming Back For Season 2?
Well, that's a wrap on the first season of Citizen Rose, a mini-series that follows actress and activist Rose McGowan as she fights back against sexual assault. After the first season came to an end, fans found themselves wondering: when does Citizen Rose Season 2 premiere? Well, the truth is that it doesn't look like there will be a second season. Citizen Rose was picked up by the E! network to be a limited series of only five episodes, though Futon Critic is reporting that the Thursday, May 31 episode will be the finale.
The first episode of Citizen Rose aired as a preview on January 30, 2018. Remaining episodes started airing again on May 17, with three new episodes showing until the reported May 31 finale. In the series, mostly filmed in a documentary-style format by McGowan herself, the actress follows her journey as she fights endlessly for justice. Not only is McGowan fighting for herself -- she previously accused movie mogul Harvey Weinstein of rape, as reported by ABC News -- but also for women all over the world. Due to the allegations, McGowan refused to mention or acknowledge Weinstein throughout her series. She prefers to refer to him as the "monster" -- and rightfully so.
"I don't like saying his name — the monster, that is," McGowan told The Hollywood Reporter in an interview. "He doesn't deserve my acknowledgement. You're beneath humanity. You don't even get a name. Loser."
However, Citizen Rose is not the only place where McGowan discusses the allegations she's made against Weinstein. She also wrote about it in her book, Brave, which was published and released in early 2018. In the book, McGowan alleges that Weinstein raped her inside of a hotel room in 1997. Weinstein has adamantly denied the claims made by McGowan, in which she also accuses actor Ben Affleck of knowing how Weinstein allegedly treated women behind closed doors.
Allegations aside, Citizen Rose offered a rare but genuine glimpse into McGowan's life in the spotlight. In early episodes of the series, McGowan took viewers on a tour of her home and also talks about her childhood. The actress claims she was raised within a cult called Children of God, though she claims her father promptly got the family out after adult-child sex was being promoted within the alleged cult, as reported by THR.
But, Citizen Rose is not all about the trauma that McGowan has allegedly endured. It also explores the healing process she is undergoing, some of which was brought on solely by filming the docu-series and being able to share her story with the world.
"I realized I wanted to show how we can heal through art even when being hounded by evil," McGowan wrote in a statement about the series before it aired on E!. "I want to have a conversation with everyone, and most especially, you, about looking at things differently and seeing beauty everywhere."
As of the date this article was published (May 30), it's unclear whether or not Citizen Rose is coming back for a second season. While many of McGowan's followers would love to continue to follow her story, especially now that Weinstein has been arrested on rape charges in New York City, there is no confirmation that filming will continue. However, anyone who is a longtime fan or supporter of McGowan knows that they don't necessarily need a docu-series to follow her journey. After all, everyone is welcome to follow her on social media where she is just as open with the world as she has been on camera.