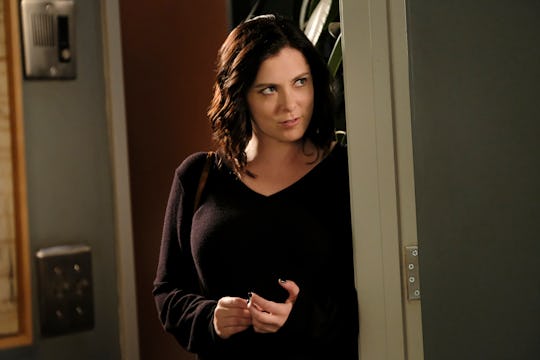 Eddy Chen/The CW
'Crazy Ex-Girlfriend' Won't Have To Wait Long For Its Return
Just as most college students are about to go on winter break, so are most of your favorite shows. That includes Crazy Ex-Girlfriend, whose midseason finale airs this Friday night. So when does Crazy Ex-Girlfriend return from its winter hiatus? The wait to find out what's next for Rebecca Bunch won't be too long.
In less than a month, Rebecca &. Co. will be back on your TV screens. The second half of Crazy Ex-Girlfriend will premiere on The CW on Friday, Jan. 5 at 8 p.m. EST. Therefore, while it may be hard to say goodbye to the hilarious show and its great musical numbers, you can relax knowing the break won't last forever.
Before the hiatus sets in, fans will be treated to a very interesting episode this week. For the first time in the show's history, the episode title doesn't have Josh's name it but is titled "Getting Over Jeff." If you are unaware of who Jeff is, that's OK because you'll find out more about him tonight. Show creator and star Rachel Bloom explained to The Hollywood Reporter that Jeff is Paula's long-lost love and they're returning to Buffalo, NY to see him.
"In the pilot, there's this line where Paula goes, 'I wish I had been as brave as you were when I was your age,'" Bloom said. "So we always knew that Paula felt like there was something that got away from her, and so this is an episode where we meet that guy." So expect this episode to be more Paula-centric, hence the episode title change.
As always, you can expect the episode to be filled with incredible and ridiculously catchy music numbers, which includes Paula singing about the very first penis she ever saw. (Yep, you heard me.) That will definitely be fun. Jezebel also shared an exclusive clip from the episode, which shows Rebecca dressed in Shirley Temple attire and joined by Paula's dad, played by comedian Eddie Pepitone. That'll definitely be interesting.
While the musical numbers definitely sound fun, don't expect Rebecca to be completely upbeat in the episode. She's still, understandably, reeling from being stood up at the altar by Josh and her borderline personality disorder diagnosis. But she is getting better, and when the show returns in January, she'll not only be moving on from Josh, but moving on from relationships in general.
In a recent interview with Entertainment Weekly, Bloom revealed that Rebecca will have a new boy-free outlook on the world, something that will be shown in the show's 100th song, "Without Love You Can Save the World," which will appear on January 12. "It almost looks like [the actors in the scene] are in some kind of cult based around the idea of not being in love," she explained. "It's like we're singing about the Age of Aquarius, except we're singing about how love makes you a selfish, terrible person."
Whether or not Rebecca's thoughts on love will actually last remain to be seen, but Nathaniel probably won't be happy when he hears she's sworn off all men. They definitely share a connection and attraction for one another, but that potential romance won't be blossoming anytime soon if Rebecca has anything to say about it, which of course she does.
As for what's up next for Josh, it's difficult to say, but at this point it would seem that his relationship with Rebecca is really, truly done this time. At least, one would hope.
The Crazy Ex-Girlfriend midseason finale airs on The CW this Friday, Dec. 8 at 8 p.m. EST.
Check out Romper's new video series, Romper's Doula Diaries:
Watch full episodes of Romper's Doula Diaries on Facebook Watch.