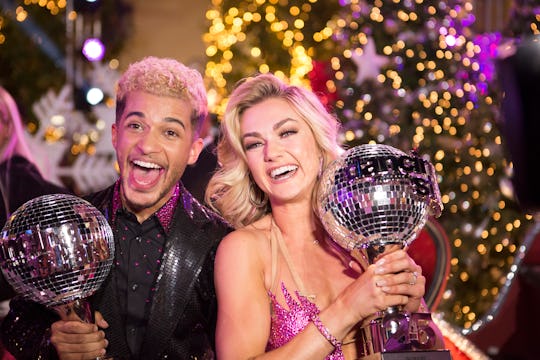 Adam Rose/ABC
'Dancing With The Stars' Season 26 Can't Get Here Fast Enough
In this fraught political climate and with so many important, serious forms of entertainment coming out like The Handmaid's Tale, it's understandable if you kind of just want to turn off your brain for an hour or so once a week and watch people learn how to ballroom dance on Dancing with the Stars. So when does DWTS come back for Season 26? The show is on its way and it is going to be a very special season. But it's also going to be the shortest season ever, lasting for only four weeks instead of the usual 10.
The 26th season of Dancing with the Stars is scheduled to return to TV screens on April 30 and will run through May 21, giving you a solid month to watch people become (almost) perfect ballroom dancers. But the shorter season isn't the only switch-up Season 26 is bringing to DWTS. It was announced back in November that this season would be an all-athletes edition of the ballroom series. Coming right on the heels of the Winter Olympics, everyone is predicting that this means plenty of Olympic athletes will be competing for that coveted Mirror Ball trophy, which is almost as exciting as an Olympic medal. You know, like right behind it in terms of prestige.
If you're bouncing off the walls with excitement for this the way I am, you'll be happy to know that the official announcement for who will be competing on Dancing with the Stars is on April 13, which is just a few weeks away, giving everyone plenty of time to get excited for the actual season premiere. Since there is still a little time before everyone will know for sure who's going to be competing, that makes it time to start speculating wildly about the cast. People have already been predicting which Olympic athletes will be in the ballroom and the athletes themselves have been interviewed about whether they'd ever join the show.
I'd be shocked in Mirai Nagasu wasn't a part of the cast. After her free skate in PyeongChang, she didn't land the triple axel as she did during the team event, however she didn't seem too bummed. She told interviewers that she simply viewed that performance as her Dancing with the Stars audition. Having become a fan favorite since the Olympics, and clearly wanting to be a part of the show, Nagasu is basically a shoo-in. She'll also most likely win because she's a figure skater which is a lot like dancing but on ice.
Another figure skater who captured America's heart even more than Nagasu was Adam Rippon, whose witty one-liners and excellent Twitter account made him the star of the Olympics, even if he didn't win gold. He said in an interview with People that, "If the opportunity came up, I would love to do it," adding that his only difficulty would be dancing with a partner, which he's never done before. Let's be honest, Rippon is a solo act through and through.
Entertainment Weekly interviewed several Olympic athletes about whether or not they'd consider being a part of DWTS, including lovable ice dancing siblings Maia and Alex Shibutani, who said they would consider it, though it might be "awkward" to compete against each other. The outlet also asked if hockey player Meghan Duggan, who helped lead the American team in their defeat of the Canadians, would be interested. Duggan said she would "100 percent" say yes, though she's not sure what kind of dancer she'd be.
I'm not sure if any non-Olympic athletes would be interested in Season 26 of the show. What I do know is that April 30 can't come fast enough.
Check out Romper's new video series, Romper's Doula Diaries:
Watch full episodes of Romper's Doula Diaries on Facebook Watch.