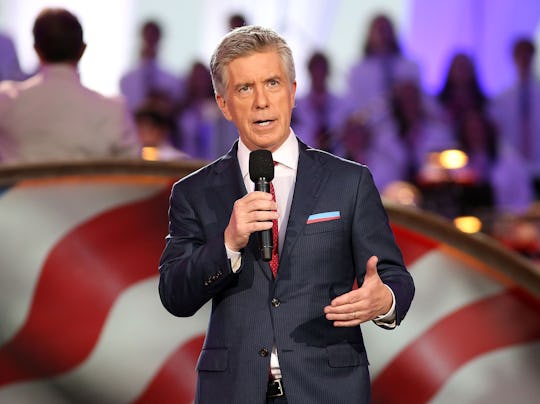 Paul Morigi/Getty Images Entertainment/Getty Images
'Dancing With The Stars' Season 26 May Be Further Away Than You Think
Some people measure the changing of the seasons by the weather. I measure the changing of the seasons by ABC's Monday night programming schedule. The network tends to stick to a regular rotation between The Bachelor and Dancing with the Stars, so when I was thinking about when DWTS Season 26 will premiere, I immediately assumed that it would be back next spring, after The Bachelor and before The Bachelorette and Bachelor in Paradise like usual. So imagine my surprise when I learned that, just maybe, this isn't exactly what's happening. Bear with me folks, I think the Earth just tilted on its axis. It's like seeing snow in July or a sunset at noon. I am heartily confused.
Last spring, ABC announced that it would be airing a spinoff series of the dancing show. That would be, naturally, Dancing with the Stars Jr. Because if watching athletes learn to Foxtrot in the off-season wasn't charming enough, imagine if it was small children and pre-teens learning to Foxtrot? It was announced that the series would star child stars and the not-yet-star children of stars paired with professional junior ballroom dancers. That means both that there are 10-year-old children somewhere with better rhythm than I have and that I could potentially watch Millie Bobby Brown dance a Charleston.
But wait, not so fast. According to a couple of tweets from host Tom Bergeron which were maddeningly light on details, Dancing with the Stars Jr. might not be happening at all and Dancing with the Stars Season 26 may very well air in the fall of 2018. In the tweets, Bergeron said, "Season 26 of [DWTS] will be next Fall. The 4 week mini-season in the Spring is a bite size, spray tanned spin-off." This seems to imply that the normal spring season of the dancing show will be replaced with the Junior spin-off. That makes sense. But wait! Bergeron "clarified" that statement with another interesting tweet.
"...But there will be a mini-Spring season (4 Weeks). Not 'DWTS Junior.' More info Tuesday." Well, so does that mean then that Dancing with the Stars Jr. isn't happening at all? At least a few outlets seem to think that this is the case. Just Jared Jr. teased that Bergeron hinted that DWTS Jr. might not be happening. I'm not convinced that the "bite size, spray tanned spin-off" referenced by Bergeron was necessarily the same thing as Dancing with the Stars Jr. I'm imagining a normal, though short, season set someplace tropical. Like Dancing with the Stars' answer to Bachelor in Paradise. In either case, it looks like there will at least still be some dancing this spring.
Keep in mind as well that Bergeron promised more information on Tuesday. As the second night of the two-night Season 25 finale, one can assume that an announcement will be made during the live show. Hopefully Bergeron will clarify exactly what is scheduled to air in the spring of 2018, be that a mini spin-off, Dancing with the Stars Jr., or both. After 25 seasons, I'm actually a bit surprised that it has taken ABC this long to come up with a spin-off for Dancing with the Stars, as one of the network's most popular series. After all, a new spin-off for The Bachelor pops up about once a year.
So yes, the change-up for the spring of 2018 is definitely messing with my head a little bit. (If I can't rely on Dancing with the Stars, what can I depend on?) I'm not necessarily upset with the change. I'm just going to need a little more information from the powers that be. But as it stands right now, it's looking like Season 26 of DWTS won't be making its grand return until almost a year from now.
Check out Romper's new video series, Romper's Doula Diaries:
Watch full episodes of Romper's Doula Diaries on Facebook Watch.