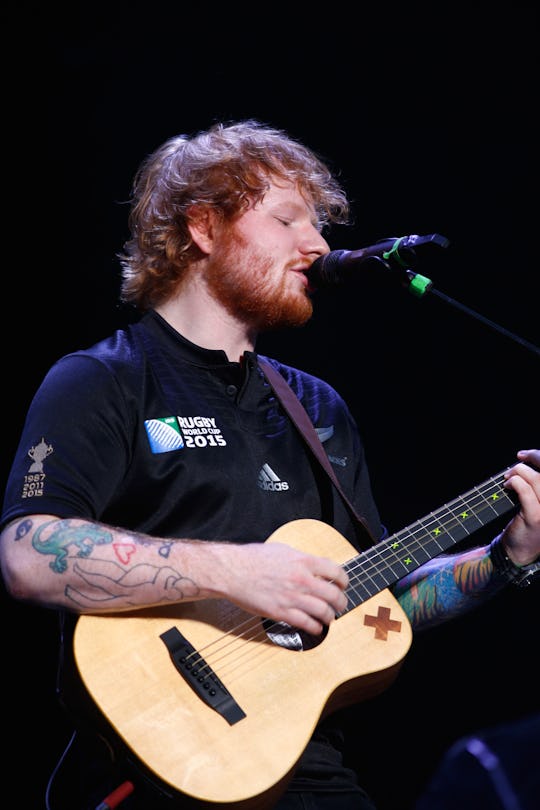 Phil Walter/Getty Images Entertainment/Getty Images
Ed Sheeran Is Back With New Music
Back in December 2015 Ed Sheeran announced that he was taking a break from social media, but now that the new year has arrived he's back to business as usual. Sheeran's break was motivated by a desire to travel and see "everything [he'd] missed" when he was too busy being focused on his phone. But he also gave his fans some hope to get them through the long drought without new music: he promised them that a third album was on the way and that it would be the best one yet. Now that he's back to work, will he be releasing new music? When does Ed Sheeran's album come out?
His fans will be glad to know that they don't have to wait very long at all. Sheeran has been hyping up his new music on his social media accounts since 2017 began and he announced that the release of his newest album would be this Friday, January 6. The announcement came with an image of two symbols on a blue background: an alternating subtraction sign and division sign, leading many to assume his new album would be called either subtract or divide to remain on theme with his previous two albums, + (plus) and x (multiply).
Despite knowing just how many days to count down until the album drops, there still isn't a lot that's confirmed about Sheeran's newest musical offering. Though the album's title can be inferred from the graphics released on social media, it's still not officially verified. Fans also don't have much of an inkling about the upcoming tracks, though the Independent reported that Sheeran registered a few titles with his publisher, so you might be able to look forward to "21st Century Fox," "Sure," and "Fall" as upcoming songs. Amy Wadge, who worked with Sheeran on "Thinking Out Loud," also co-wrote "Fall."
Sheeran may have also given fans another lyrical hint on Twitter when he posted an image showing the line "when I was six years old, I broke my leg" on the light blue background associated with the new album. Considering the fact that the title "Fall" is floating around, it seems like the line may fit right in as a lyric.
Sheeran's fans have just a few days to get in all the wild speculation they can before the album will finally be available to them. For those that enjoy Sheeran's music, things are already looking up in 2017.