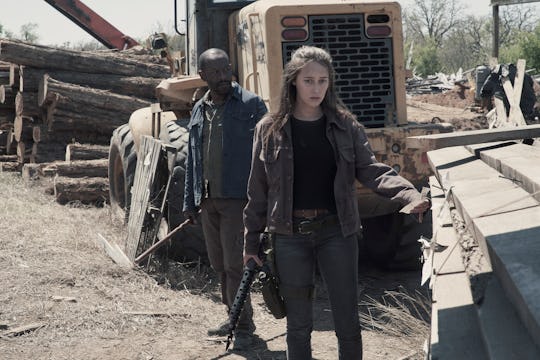 Ryan Green/AMC
'Fear The Walking Dead' Finally Returns After A Devastating Mid-Season Finale
I understand why shows take midseason breaks, but those little hiatuses can be torturous. Such is the case with Fear the Walking Dead, whose fourth season was halted by a months-long break. When does Fear the Walking Dead come back? Well, it's already here.
Fear the Walking Dead returned Sunday, August 12 on AMC at 9 p.m. I'm sure viewers can't wait to see where the show is going after Madison Clark, the show's lead, died in the mid-season finale. It shocked basically everyone given that Madison was on the show from the very beginning. EW called it "the most shocking death yet" — and for a show about death, that means a lot.
Unlike the death of Nick Clark, which was written into the story when actor Frank Dillane decided to leave — Fear the Walking Dead producers said that Madison's death was a "story decision" and the actor, Kim Dickens, was heartbroken to leave the show. Madison died by sacrificing herself for others, which is what showrunners Ian Goldberg and Andrew Chambliss wanted to portray on the show.
"The story we're telling is a story about hope and people losing hope, and then finding it again," Chambliss told Entertainment Weekly in an interview about the choice. "And for us, that meant having someone make the ultimate sacrifice for what they believed in, and that is what Madison did in this episode." Goldberg echoed Chambliss's sentiment and told EW, "Madison's legacy will be held very much in the way that these characters continue in the world going forward."
Kim Dickens was one of the few actors still on the show who was there from the very beginning (because characters tend to die a lot on this show). Understandably, her exit affects not only her but the rest of her cast members. Alycia Debnam-Carey, who plays Alicia Clark, said Dickens leaving the show has been difficult to process. In an interview with Digital Spy she said, "I'm the only one left! It's been really hard for myself, Colman [Domingo] and Danay [Garcia] – we've been a family, and really involved in each other's lives."
Domingo also said that character deaths have been hard to process, even if it just means those actors don't show up to work anymore. "I mean, just imagine losing two of your core in one season [both Dickens and Dillane], and we found out right before we started," he told Digital Spy. "You're losing someone that you're used to working with all the time, and that you enjoy working with so much."
Domingo added that it is the nature of the show. It's about zombies — the literal walking dead that need to be feared — so having a rotating cast is inevitable. He continued, "But you also understand the nature of it, and understand the storytelling. It's a lot of things to process, because you also have to process new people coming in at the same time."
Not to mention, Fear the Walking Dead Season 4 is already different than the other seasons due to its time jumps. Some audience members aren't fans of it and said it seemed like haphazard storytelling. Domingo said the time jumps and alternative storytelling this season have also affected the actors. He told Digital Spy, "I'll be very honest with you, the first couple months in our season, we were all doing a balancing act, trying to figure it all out together. It required intense amounts of grace, and patience, and frustration, and being honest about your feelings." He admitted, "It sucked sometimes, but I applaud all our efforts, because I think that we really leaned into it in a very beautiful way."