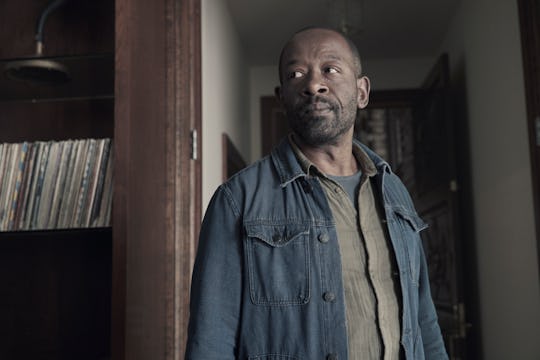 Ryan Green/AMC
'Fear The Walking Dead' Season 4, Part 2 Is Almost Here
Like a zombie rising from the dead, Fear the Walking Dead is finally coming back to finish where it left off after the mid-season finale. When does Fear the Walking Dead Season 4 Part 2 premiere? It's about to make its return.
Fans will be delighted to know that Fear the Walking Dead comes back Sunday, August 12 at 9PM EST on AMC. The network actually dropped the first four minutes of the premiere ahead of time, though, so you could get a taste of what the first episode of Season 4, Part 2 will bring. It features a "zombie hurricane" and looks like some crossover between Night of the Living Dead and The Wizard of Oz. So, what more could you want?
As if zombies weren't enough, imagine battling a giant killer storm at the same time. Well, that's just what characters will have to deal with on the back half of Season 4. And if you're looking for more clues on the upcoming action, Fear the Walking Dead Season 4B posters put the focus on Morgan, which could be another hint about the direction these episodes will go in. Some fans believe the show will shift away from the Clarks and towards Morgan — and considering the death of Madison Clark, they could be right.
Entertainment Weekly called Madison Clark's death the "most shocking death yet" on Fear the Walking Dead. Kim Dickens, the actress who played her, was "heartbroken" about the end of her character. "Obviously it was shocking to me and it was disappointing. It was heartbreaking," she told EW about learning that Madison would die. Dickens had not asked to be written off the show; the showrunners decided to do it for the story. Dickens continued, "I have loved this character, I've loved playing this character, I've loved this show, and I'm so proud to have been a strong female empowered lead of a genre show." Madison died by sacrificing herself for her children — so she was true to herself until the end.
Madison's death wasn't just shocking for Dickens; it was shocking for the other actors, too. Alycia Debnam-Carey, who plays Madison's daughter Alicia, said it was "really heartbreaking." She, however, acknowledged that it opens up possibilities for different types of stories on the show. She told the Los Angeles Times during Comic Con, "It's opened up so many new possibilities for what the narrative can become, what these characters will become ... For me especially, being the only surviving member of the Clark family now, it's an interesting place for Alicia to go: whether she can live up to her mother's life and memory, or if she's going to become a completely different person."
And these possibilities will definitely be needed, because Fear the Walking Dead was renewed for a fifth season (along with Better Caul Saul and McMafia, for big fans of AMC programming). That means that even though this second half of the season may be short, fans can rest easy knowing that it will be coming back. Seeing as Alicia is the only living Clark, the series may shift gears in upcoming seasons — perhaps to focus on Morgan. The show has certainly evolved over these few years but it makes sense considering it's about zombies. Nobody can be totally safe in a zombie apocalypse after all.