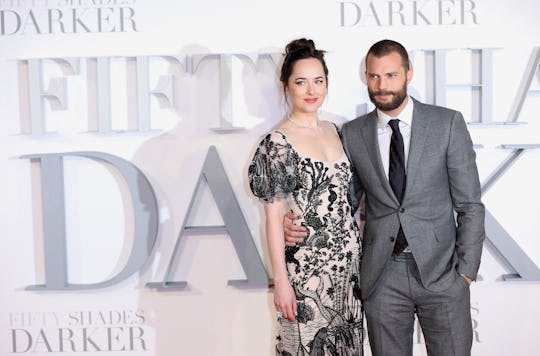 Tim P. Whitby/Getty Images Entertainment/Getty Images
'Fifty Shades Freed' Has A New Teaser Trailer!
After two rather difficult years, the sequel to Fifty Shades of Grey — Fifty Shades Darker — has finally hit theaters. The second film of the franchise picks up right where the first one let off, Christian Grey and Ana Steele split up for not quite seeing eye to eye on how their relationship should play out. For those that flocked to the theaters on opening weekend to see Freed, you may find yourself waiting (palm-twitchingly?) impatiently for the third film's release. So, when does Fifty Shades Freed come out?
Well, if you did see Fifty Shades Darker during Valentine's Day weekend this year, you might already know the answer. That is, if you were patient enough to sit through the credits of Darker for a first look at Freed. If you ran out of the theater the moment the fireworks diminished from the final scene of the sequel, then see what you missed below (spoilers below, you've been warned!).
In a post-credits teaser trailer for Freed, fans see Ana in a wedding dress as Christian's voiceover recites what sounds to be wedding vows. "I solemnly vow to keep you safe for as long as we both shall live," Christian says. For those who aren't familiar with the plot of the third book, the film's new thriller-esque sense continues as more complications hit Christian and Ana's relationship.
The teaser does give one huge piece of information that fans will certainly care about: a release date. Once again, in the same fashion as film one and two, Fifty Shades Freed will be released on (or around) Valentine's Day 2018.
The story will continue on with where the second film left off — Christian and Ana plan to marry after the two faced a few setbacks in their relationship. In Fifty Shades Darker, a threatening boss, an old sub, and a blast from Christian's past are just a few of the things that come in the line of fire for Christian and Ana shippers. Will the third film stay true to the book, putting their relationship to an ultimate test? We'll find out on Valentine's Day weekend next year.