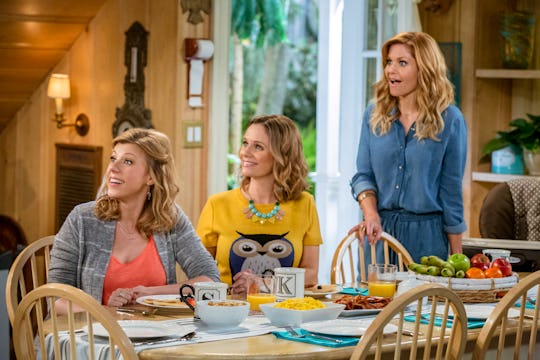 Michael Yarish/Netflix
'Fuller House' Season 4 May Introduce Some Exciting Plot Developments
The second half of Fuller House Season 3 dropped on Netflix just ahead of Christmas, slipping in all the nostalgia it could before the end of 2017. Of course, most die-hard fans have polished off those nine episodes and are now wondering: when does Fuller House Season 4 premiere? The series actually hasn't been picked up for a fourth season yet, but considering the breakneck pace at which it churned out the first three, the team has earned a well-deserved break to regroup and figure out what direction they're going in from here on out.
Update: On Jan. 29, Netflix renewed Fuller House for a fourth season, according to TV Line. Get ready for more Tanner family fun!
Earlier: The end of Season 3 left us with quite a few twists, setting us up for some cool stuff to happen down the line. We learned that Stephanie and Jimmy's IVF embryo successfully implanted in Kimmy Gibbler, which offers plenty of opportunity for "I'm carrying my brother's baby" jokes. Plus, we'll get to see Steph come full circle as a mom. The end of Season 3 also saw all the OGs move back to San Francisco, which hopefully means more Becky, Jesse, Joey, and Danny in Season 4. Series creator Jeff Franklin admitted in an interview with TVLine that the excuses to fly the whole family in were running a little thin.
He explained:
It got to be really repetitive for me every time the dads or Becky would show up We've had to bring them in with suitcases and reasons for them being there and it got to be the same thing over and over. I'm looking forward to them just being in town and whenever the storyline works, they can just be part of the gang again without making a big deal out of it.
Another plot twist that could potentially pay off in future season storylines is the return of Vicky Larson, the woman Danny almost married in the original series but didn't. At the top of Fuller House, we learn that Danny did happily remarry for awhile, but over the course of the reboot, he divorces. (We never actually meet the girls' step-mom.)
"We spent a lot of time building Vicky's character and building that relationship, and that one got ripped apart as well," said Franklin in the same TVLine interview. "I don't think any of those decisions were big crowdpleasers back in the day. All of those little decisions contributed to the show's early demise. For me, it's just nice to bring her back and say we love you. That was what it was about for me."
The first few seasons dropped about nine months apart, with a three-month break in between the two parts of Season 3. If the series gets re-upped and continues with that model, we should see a Season 4 premiere sometime around September 2018. That said, Netflix also renewed the series for another season right away when those previous seasons dropped. The fact that there hasn't been word on a renewal yet might mean a slightly longer delay this time around. Netflix seems to like cashing in on the show's nostalgic capital by giving it holiday releases, so it's possible Season 4 will drop sometime closer to Christmas 2018.
Either way, a production delay could prove valuable to give everyone a chance to catch their breath and regroup. The original series ran for eight seasons and Jeff Franklin was only involved with the first five. They're fast catching up to the halfway point with the reboot and taking some extra time to develop plot in a thoughtful way will only honor the original.
Check out Romper's new video series, Romper's Doula Diaries:
Watch full episodes of Romper's Doula Diaries on Facebook Watch.