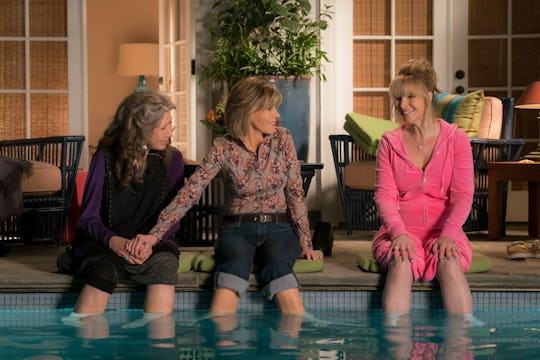 Melissa Moseley/Netflix
Fans Are Already Eager For 'Grace And Frankie' Season 5 To Premiere
The fourth season of Grace and Frankie has arrived on Netflix, but as is the case with most Netflix shows, fans have already binged it all, most likely in one sitting. (No? Just me?) But will this mean the end of Jane Fonda and Lily Tomlin's journey together? I certainly hope not. So when does Grace and Frankie Season 5 premiere?
Unfortunately, the series hasn't been renewed for a fifth season yet. But never fear — the series hasn't been canceled either. There just hasn't been any news about a potential renewal as of now, which is to be expected since the fourth season only just premiered last week. News of the show's Season 4 renewal didn't come until April last year, a few weeks after the third season was released. With that in mind, there's still plenty of time for a Season 5 renewal to be made, and once that happens the premiere date will come after that.
For now, the best way to make sure there's more Grace and Frankie in the future is to keep watching the show, talking about the show, and telling others to watch it as well. The comedy series has only gotten better and better with each season and this should only be the beginning for the series, not the end. Thus, it's up to the fans to make sure Netflix knows just how many people are still interested in the show and want to see more of it.
If you haven't seen the new season yet, now is the perfect time to check it out. This latest installment includes guest star Lisa Kudrow, who plays Grace's long-time manicurist and friend, Sheree. However, could Sheree's entrance in the now well-known beach house cause a rift between Grace and Frankie? You'll just have to watch and see, but based on the trailer Frankie isn't all that excited about Sheree's appearance at the house or her clear love for rhinestones.
Season 5 also has Grace and Frankie fighting against the struggles of getting older. During an ATX Television Festival panel in June, creator and showrunner Marta Kauffman said the women will be "coming to terms with how old they are, where their bodies are at this point, where their minds are at this point and what does that imply, what does that mean," this season.
This is clear just in the trailer, where Grace attempts to hide the fact that she's struggling with a bad knee. This, of course, leads to disastrous results, including knocking over a whole display in a grocery store with her cart and being unable to storm out of her children's intervention.
In addition to facing the changes that come with age, Grace and Frankie are also experiencing some exciting news as well. For Frankie, that comes in the form of welcoming her first grandchild into the world in the way only Frankie can. This involves beckoning the baby out by chanting, "Here baby, baby, baby," while Bud's girlfriend is in labor. Naturally, Bud notes that probably isn't at all helpful.
Meanwhile, Grace and Frankie's ex-husbands, Sol and Robert, are going through their own problems as they go through a rough patch in their marriage. After attending couples therapy, it's suggested that they try an open marriage. Unfortunately for Robert, Sol seems to have much better luck with the concept than he does. Could this mean the two are headed for a split?
You can find out what's in store for Grace, Frankie, Sol, Robert, and their kids by watching the fourth season of Grace and Frankie, which is now streaming on Netflix.
Check out Romper's new video series, Romper's Doula Diaries:
Watch full episodes of Romper's Doula Diaries on Facebook Watch.