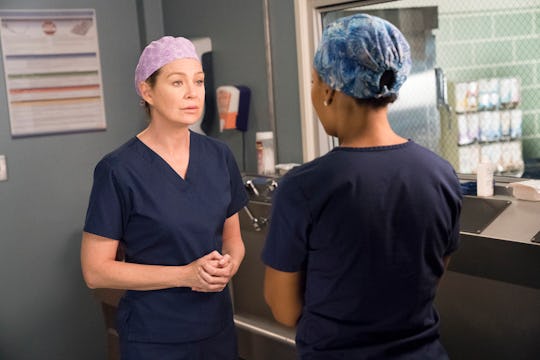 ABC/Mitch Haaseth
The 'Grey's Anatomy' Gang Will Be On Hiatus For A *Painfully* Long Time
If you're looking for something to balance out the stress of the holidays — like new episodes of your favorite shows — you may have to wait a bit. Next week marks Thanksgiving which means it's pretty much Christmas, and then New Year's Eve shenanigans begin. This is especially true for all you Shondaland fans waiting to see what becomes of Meredith and everyone at Grey Sloan Memorial because, well, it's going to be a minute before they're back. So when does Grey's Anatomy return?
I hate to be the one to break it to you, but it looks like Grey's won't be back until mid-January 2019. The 18th, at 8 p.m. on ABC to be exact, so mark your calendars. Yikes — that sounds pretty far off. Actually, it's true with all Shondaland shows. Being the top earners means choosing when to air the mid-season finale, and when to come back. When you've been on as long as Grey's (15 years), you've kind of earned that right. As far as Station 19 and How to Get Away With Murder, well, there's more bad news. They, too, will air mid-season finales Thursday, November 15, and take a break until well after the new year. Simply put, Shondaland Thursdays will be replaced by holiday viewing the whole family can watch, with various other specials to fill the weeks before Christmas.
For now, this week's mid-season Grey's finale will showcase a massive windstorm that leeches over into Station 19 world. I love a good cross-over, TBH, so this should be a good one. Considering the last time there was a storm of this magnitude, Heather Brooks died, Meredith and crew had to work in the dark (hello, c-section), and Dr. Richard Webber got electrocuted. Brace yourself for the madness.
If you've yet to recover from last week's episode with multiple shockers, you have good reason to be leery for the fall finale. Pregnant Nurse Frankie died after problems with her spleen, then fluid in the abdomen, and finally, uncontrollable bleeding during surgery. The baby is fine, FYI, but what a traumatizing event. Grey's showrunner Krista Vernoff told Entertainment Weekly they sprinkled Frankie's character in to make her death more organic (but still incredibly painful) saying, "We knew that we had this episode that would focus on the nurses in the hospital, and we wanted to not just suddenly meet that focal nurse in that episode," she said. "So we were far enough ahead in the writing that we were able to find the actress and then pepper her into the season."
On top of all that, episode 7 had a lot happening. Dr. Weber battled his demons at a bar, Maggie and Jackson are trying to figure things out, Catherine and Richard have secrets (Catherine is diagnosed with cancer), and don't even get me started on Teddy's pregnancy, Owen, and Amelia, or even Maggie and Jackson's demise. It's too much, Grey's. Too. Much. The hardest part of Thursday's 8th episode of the season is not having any questions answered for at least six weeks, or more. Will Meredith tell Owen about Teddy's pregnancy? Will Teddy? If, and when it happens, what will it do to Owen and Amelia's relationship? These are things that should be handled now (please, and thank you).
If you cant fathom a world where there's no Shondaland to sink into, I feel your pain. As if the holidays aren't hard enough, you know? Rest assured, all things will be answered and tied in a neat — rather, a drama-filled, messy bow upon its return. In the meantime, there's always, you know, spending time with loved ones. I guess.