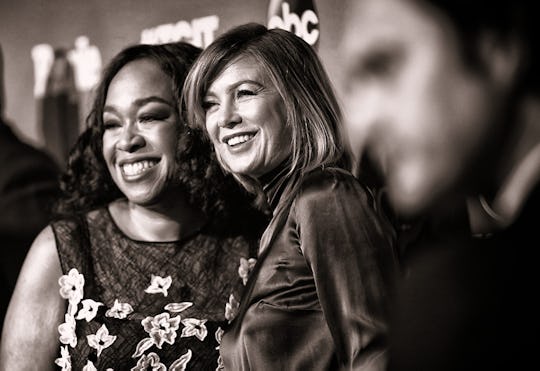 Mark Davis/Getty Images Entertainment/Getty Images
When Does 'Grey's Anatomy' Return? Season 13 Should Be Back Soon
Season finales have always provided some of Grey's Anatomy's biggest storylines and shocks, and it's likely Season 12 will go out with just as much of a bang as its predecessors. There have already been some major moments in the show's twelfth season and the finale promises to provide resolution in some areas and create even more dissension in others. Promotional material for the episode promises that all hell breaks loose just in time for Amelia's wedding, so there will be wedding mishaps, a potentially dangerous birth, and secrets revealed – everything that goes into a perfectly dramatic season finale. Fans might even be forced to say goodbye to a beloved character. The finale will probably have everyone wishing for the next season to start as soon as possible. So when is Grey's Anatomy returning?
Thankfully, Grey's Anatomy has a pretty reliable schedule when it comes to premieres so even though there hasn't been an official announcement, it's easy to make an educated guess. The show has definitely been renewed, so no worries there. With the exception of its first season, Grey's Anatomy has started off every new year during the last week of September, so look for the start of Season 13 sometime around then.
The finale definitely looks like it will be a busy episode, with a lot of balls in the air that might come crashing down at any minute. After rushing into an engagement with Owen, Amelia might be having cold feet. Actress Caterina Scorsone discussed Amelia's wedding day freakout with TVLine, saying that lack of support from the people around her is what sets Amelia off. "[Amelia] kind of believed that she stepped into a responsible adulthood that should be admirable," Scorsone said. "And that's the exact moment when Meredith withdraws her approval. It confuses and devastates Amelia. There's no way she can win approval from Meredith! I think that becomes a big piece of what's going on with her."
The wedding might be the main event, but that's not all the finale will be dealing with. April's baby comes unexpectedly and, considering past tragedies, the birth might not go well. Meredith will be dealing not only with Amelia but with her decision to hook up with her sister's crush, which will be a major betrayal when Maggie finds out. That doesn't even cover the loose ends that need to be tied up with Alex and Jo, and the fallout of Callie's decisions this season.
As always, Grey's Anatomy has packed the finale with enough storylines to make you dizzy, and fans should be prepared for any number of shockers. The wait until September is shorter than you think.