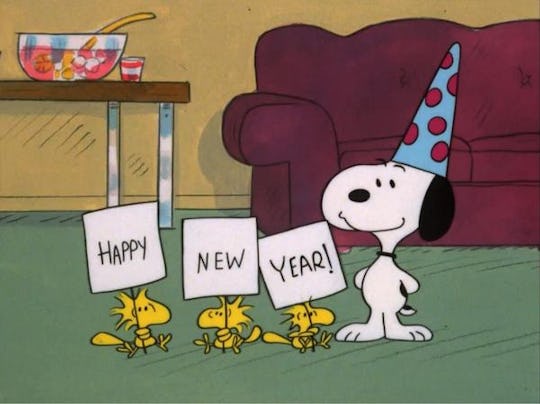 Lee Mendelson Film Productions
When Does 'Happy New Year, Charlie Brown' Air? You Can Watch It Right After Christmas
If there's a holiday coming up, odds are there's also a Charlie Brown special for it — from Thanksgiving to Christmas and now to New Year's. Charlie Brown loves to celebrate and for decades fans have loved to celebrate with him and the rest of the Peanuts gang, which is why these specials have continued to be shown year after year and will probably never go out of style. It's no surprise then that fans are hoping to watch Happy New Year, Charlie Brown before they ring in the New Year themselves. Thankfully, fans will get a chance to see it on TV before 2016 ends. So when does Happy New Year, Charlie Brown air? Appropriately, it will make its debut right after Christmas.
Charlie Brown fans can tune into ABC on Dec. 26 at 8 p.m. ET to watch Happy New Year, Charlie Brown. If that time doesn't work or you want to be rebellious and watch the special after the New Year, fans can find the entire special on YouTube as well. Whether or not you've seen the special before, it's definitely a must-see affair with the family. Filled with the same level of family humor that can be expected from any Charlie Brown production, the half hour-long cartoon is both heartwarming and a great way to kick off (or end) the year.
The special, which first aired on Jan. 1, 1986, finds Charlie Brown in a typical dilemma. He's obliged to attend Peppermint Patty's New Year's Eve party, even though he needs to finish reading the novel, War and Peace, for school. (Oh, the joys of homework.) The special features everyone from the original Peanuts gang, including Lucy, Linus, and Sally. While Charlie is dealing with his own problem, Snoopy, along with Woodstock, also find their own trouble to get into along the way.
ABC will also be showing She's a Good Skate, Charlie Brown, as part of the Happy New Year, Charlie Brown hour long special. The 1980 Emmy-nominated TV movie features Snoopy helping Peppermint Patty train for her first ice-skating competition.
The double feature will no doubt be a fun hour for family and friends to come together to watch. Whether you're a grown up who's seen these classics multiple times or a kid who's experiencing their very first viewing, everyone should tune in. In my opinion, it's the best way to bring in 2017.