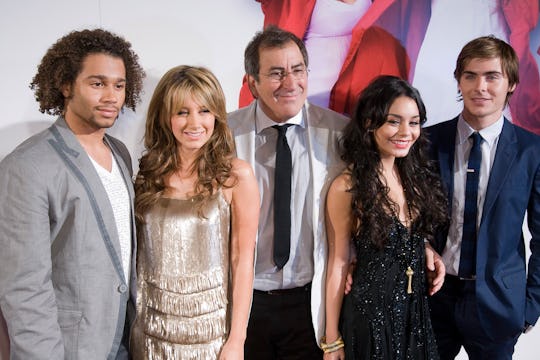 Eduardo Parra/Getty Images Entertainment/Getty Images
When Does 'High School Musical 4' Come Out? Fans Will Have To Wait A Bit
A lot has changed since the premiere of the first installment of the High School Musical franchise. Zac Efron went from your maybe-crush to a bonafide hottie, Vanessa Hudgens became a style icon and live-musical pro, and Ashley Tisdale's career as a pop singer took off, too. By now, fans of the original High School Musical have left middle school in the past, graduated high school, and probably haven't turned on the Disney Channel in years (other than to watch Girl Meets World — admit it, you watch it too). It has been 10 years since the release of High School Musical and yes, a lot has changed. But that does not mean that you can't be excited about a new one. But when does High School Musical 4 come out? It seems that Wildcat fans will have to wait a while.
On Tuesday, it was announced that there would indeed be an addition to the series of films, High School Musical 4. The original High School Musical debuted on January 20, 2006 with three subsequent films in the years following the release of the first. Unlike the first two films, which were made for TV movies, the last High School Musical film, High School Musical 3, debuted in movie theaters everywhere in 2008.
According to The Hollywood Reporter, a fourth High School Musical film has been in discussion since 2010. However, it was just announced by Disney this week that there are writers, producers, and a director attached to the project and that the movie will happen.
So when will the film actually come out? It looks like fans might have to wait a while, as they just started discussing the casting of the movie this week.
All of the information about the casting calls for the movie will be posted on the Disney Channel's Open Call Website sometime this week, according to comingsoon.net.
So far, it is unclear how the casting calls for the movie will work or where they will be held, but E! Online has obtained descriptions and names of the key characters in the fourth installment, which include Erin, "a badass soccer player who strives for excellence"; Derek, a "bad boy who falls for Erin, is tough on the surface but a soft-hearted family guy at his core"; and Campbell, described by casting directors as "Troy Bolton 2.0—super hot soccer captain and theater star" (nice). E! Online also reports that Disney Channel has yet to announce an air date for the film, but one could assume that they would need to assemble a cast first before they make that final decision.
Regardless of when the fourth film comes out, I know I am so so so excited for High School Musical 4 to come out and just like Zac Efron, my heart is still in those songs.