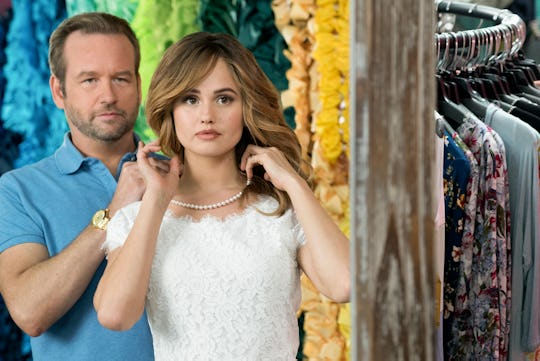 Annette Brown/Netflix
Viewers Accuse Netflix's 'Insatiable' Of Fat-Shaming Ahead Of Premiere
This summer Netflix has a number of new shows and movies coming to the platform. One series that has sparked a lot of conversation is Insatiable, which is a revenge comedy about Patty (Debby Ryan), who was bullied about her weight, but after becoming thin she decides to get payback on all the people who hurt her. With so much talk about the show people have become more interested in seeing it so they can decide for themselves if the message behind the show is a good one. So when does Insatiable premiere on Netflix? The wait won't be long.
Insatiable will premiere on Netflix on Friday, Aug. 10, unless those against the TV series have anything to say about it. The new series has been accused of fat shaming with detractors saying it promotes the idea that someone has to become thin before they can do what they desire — which in Patty's case is get revenge. Additionally, viewers were upset that the character is played by Ryan, who is thin and wears a fat suit for the series.
A petition on Change.org to have the show canceled has gathered over 120,000 signatures and counting. The petition's goal is to get to 150,000 and it'll probably get there before the show even premieres. Though there are obviously many people against the new TV series, there are others who have come to the show's defense, saying people shouldn't judge it until they've actually seen it.
Ryan took to Instagram to release a statement in which she defended the show and also asked people to wait until they watched it before passing judgment. She wrote:
"...I was drawn to this show's willingness to go to real places about how difficult and scary it can be to move through the world in a body, whether you're being praised or criticized for its size, and what it feels like to pray to be ignored because it's easier than being seen. It was very important to Lauren Gussis, our writer and showrunner from whose brain and heart and life the character of Patty was born, as well as to me, that any scenes where Patty was heavier don't use her size as a punchline, and never justify the abuse she suffers."
Ryan went on to explain:
"Patty had the same brain, the same sense of humor and style, soul and heart, the same chucks, but felt like she didn't matter to anyone until she was thin. She didn't have the same opportunities, and she was treated worse, which is what triggers her rage. And Patty doesn't starve herself skinny. She snaps and undergoes a physical transformation, but it doesn't make her happy. We're not in the business of fat shaming. We're out to turn a sharp eye on broken harmful systems that equate thinness with worth."
While Ryan's statement appeared to satisfy a number of people, others still need convincing. In fact, many people have now urged others not to watch Insatiable, but instead to watch the upcoming Netflix film, Sierra Burgess Is a Loser, which comes out on Friday, Sept. 7. The film stars Shannon Purser as Sierra, a teen who doesn't fit the "standards of beauty" that exist in and out of high school. However, a case of mistaken identity allows her to develop an unexpected romance and team up with the popular girl (Kristine Froseth) in order to win her crush (Noah Centineo).
Despite all the backlash against Insatiable, the cast and crew are standing their ground, promising that the show is more than it currently seems. Hopefully that will become clear once the show airs, but if not, people will certainly continue to let their feelings about the series be well known.