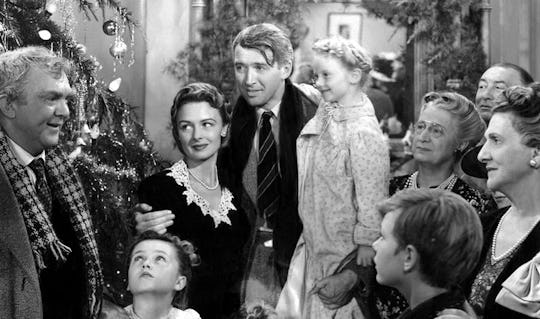 Liberty Films
When Does 'It's A Wonderful Life' Air On TV This Holiday Season? Set Your Calendar
The day after Thanksgiving is the official signaling of the beginning of the winter holiday season, when everyone begins indulging in endless carolling, the hanging of decorative lights, tinsel, holly, the whole nine yards. It is also the season of holiday specials on TV. So when does It's a Wonderful Life air this year? The Christmas classic will be hitting airwaves as early as this week, so get ready.
Now, I am aware that the digital age in which we live in, it is possible to simply find It's a Wonderful Life on the internet somewhere and stream it directly to your TV to be enjoyed whenever you damn well please, even if it's in July. But call me a luddite because personally, I miss the days when you'd gather around the TV at a special appointed time to watch this beloved movie with mugs of hot cocoa. Now is that so wrong? Maybe, but we're getting away from the point. Gather around ye olde television on Dec. 3 at 8 p.m. (ET), because that is when NBC will be airing this iconic special, for a holiday tradition that thankfully television networks still abide by to this day. Personally, I cannot wait, even if I've already seen this movie about a thousand times.
In fact, many of the major television networks will be airing all of my favorite holiday and Christmas movies in the upcoming weeks, including old classics like the stop motion Rudolph the Red-Nosed Reindeer and new classics like Love, Actually and Elf. As a matter of fact, you could theoretically watch nothing but holiday-themed movies, both the good and the not-so-good for the entire month of December in one long clove-flavored binge. Or you could just skip to the really good ones.
It's a Wonderful Life is a classic for a reason, teaching one and all about the meaning of life, and of course the well-known fact that every time a bell rings, an angel gets it's wings. But if you're just that excited about the holidays and can't possibly wait until Dec. 3, you could, of course, find it online, though it is unfortunately not available for streaming on Netflix at the moment. But hey, you could always buy it on iTunes or go out and buy the actual DVD. Either way, it's the perfect way to get ready for the holidays.