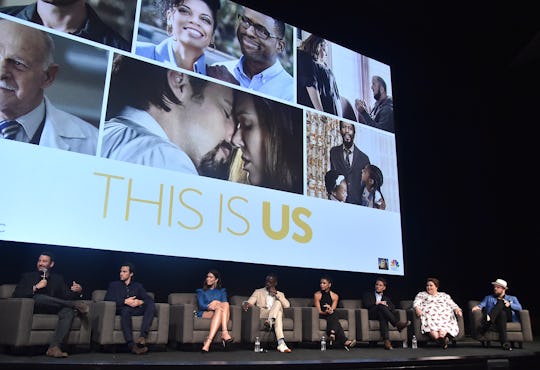 Alberto E. Rodriguez/Getty Images Entertainment/Getty Images
Jack's Mysterious Vietnam Past Might Provide All The Answers On 'This Is Us'
Now that it's been established how Jack died in Season 2 of This Is Us, fans can (kind of) rest easy knowing it's not *really* the end of the lovable, protective patriarch. If anything, there's a lot more to Dad's story and it dates back to his time spent in the Vietnam War. During flashback scenes, viewers first hear of Jack's younger brother, Nicky, which means there's another mystery to unravel. Because, of course there is. So, when does Jack's brother, Nicky, appear on This Is Us?
According to Newsweek, the exact This Is Us episode where you'll see adult Nicky, played by Michael Angarano, remains unclear. You may remember Angarano from his recurring role as Elliot McFarland on Will & Grace, or, more recently, from the Showtime series, I'm Dying Up Here. Showrunners have always been tight-lipped about the how and when of each episode's makings — specifically the long-awaited questions surrounding Jack's death (which I'm still recovering from, FYI) but NBC's recently released promo and first-look photos don't reveal Angarano as a recurring cast member just yet. Season 2 teased that Uncle Nicky may have died in Vietnam while serving with Jack, but as with every This Is Us mystery, you don't know until the showrunners want you to. *Shakes fist at the sky.* Although, Milo Ventimgilia recently revealed to EW that, unlike with Jack's death, you won't have to wait too long to meet adult Nicky, or see what happens to him. Papa Pearson and his boundless optimism wouldn't let me down, right? Besides, when Ventimiglia said on Twitter "this isn't the end of Jack" he stayed true to that promise so this whole Nicky thing won't get me like the slow cooker did.
From that same EW interview, Ventimiglia also said that while it may take a minute to "set Nicky's character up," it will help you understand the challenges he's been through. Up to this point, little is known about Nicky Pearson, or his relationship with big brother, Jack. At the end of Season 2, Jack told his young sons, Kevin and Randall, about Nicky dying in Vietnam, but I put nothing past these creators so I'll just stack up on Kleenex in advance, thanks.
John Requa, show producer and director, told EW last fall that Season 2 and the upcoming season aim to delve deeper into Jack and the secrets he kept tucked away — like Nicky. For example, in the Season 1 finale, Jack said he was a mechanic in Vietnam but a picture revealed he may have been active duty. Whatever happened, it shaped the man Jack would eventually become. Requa added that there are definitive similarities between Kevin's actions and the past actions of his father, Jack stating "we're trying to draw the parallels between the good and the bad of Jack and how it manifests in his children."
During the 2018 Television Critics Association press tour, executive producers, Elizabeth Berger and Isaac Aptaker said Season 3 will jump around in time as it always has, but it'll also "break rules." Ominous. "We're challenging ourselves to jump to decades we've never been to before, and going to the future as we've seen a little bit, and really play with the storytelling format in a way that's just much more complicated than we were able to in earlier seasons, when we were kind of showing people how the show worked." While that sounds ambitious enough, he added they could "do an episode where every act is a different time. Maybe we'll have something that jumps five timelines in an episode. We're really pushing the limits of what people will comprehend." Basically, what are rules?
Even though there's no concrete date as to when Nicky's full story is shown — or the reason Jack rarely speaks of him — you're probably still not ready. If you've learned anything from This Is Us it's that nothing prepares you for what's to come. So really, prep your eyes now.