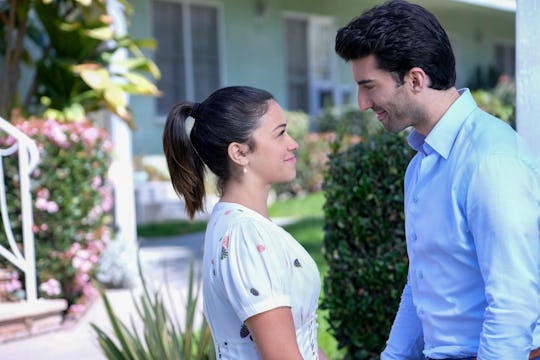 Patrick Wymore/The CW
'Jane The Virgin' Season 5 Will Be Bittersweet & Here's Why
Another great season of Jane the Virgin is coming to a close, but there is good news for fans of the telenovela-inspired series: the show has already been renewed for a fifth season. But even though the next season is a sure thing, fans are already asking: when does Jane the Virgin Season 5 premiere?
Although there's no official premiere date for the new season yet, fans can probably expect the new installment to drop sometime in October like it has numerous times in the past. The series will most likely continue to air on Fridays as well. Thus fans will have about a six month wait before the new season begins, but that's not the worst part. Season 5 will also be the show's last season ever.
Jane the Virgin star Gina Rodriguez first broached the subject during a panel at Create & Cultivate and Fossil in Austin, Texas in March. While discussing her directorial debut during the show's fourth season she revealed that she plans to "do more [directing] next year — in our final season." Executive producer Brad Silberling then confirmed the news this month while discussing his upcoming film, An Ordinary Man.
"Yes, we are heading into the final season," he told Metro, adding:
It is a wonderful final season of the show... This will only make real sense when you have seen the content of the fifth season of the show. It is exactly as it was laid out...[We've] always known when it was going to end. It will be 100 episodes when it's done and 100 is exactly where Jennie [Snyder Urman, creator and executive producer] always hoped it could end the story. So it's perfect.
And it seems many fans agree, though they're still sad to see it go.
With the final season now just around the corner it shouldn't be surprising that fans are already trying to guess how the show will end, but before we get there viewers will first see how this season comes to a close and there's a lot that could still happen. This season has seen a number of ups and downs for the Villanueva family and friends. Jane decided to put her heart back out there and though her reconnection with her old boyfriend, Adam, didn't end well, it led her back to Rafael. However, the couple is currently struggling, trying to find a home for themselves, but for the most part they're still going strong.
That being said, at the end of the latest episode Rafael received a call from Rose in jail and apparently she has some big news that could change everything. It's unclear what that could mean for Jane and Rafael, but since it's coming from Rose it's hard to believe it'll be anything good. Meanwhile, Xo is going through chemo and her friend, Donna, died unexpectedly. Thankfully, Xo found the courage to open up to Rogelio about everything she's going through and though she's still struggling at least she now has him to lean on and that goes both ways.
Thanks to Xo, and the pot brownies she got from Donna, Rogelio's archnemesis, River, got pulled into telenovelas and wants to return their show back to the original script Rogelio had. Thus, the two seem to be back on the same side... at least for now. Somehow it seems doubtful that this peace will actually last. Meanwhile, Petra and JR are now in a good place, now that JR saved Petra from going to jail by disbarring herself. But while it's great that Petra's found love and is happy, I'm sure a new set of problems will present itself soon.
To get more answers and learn what happens next, tune in for the season finale of Jane the Virgin Season 4 on Friday, April 20 at 9 p.m. ET on The CW.
Check out Romper's new video series, Romper's Doula Diaries:
Watch full episodes of Romper's Doula Diaries on Facebook Watch.