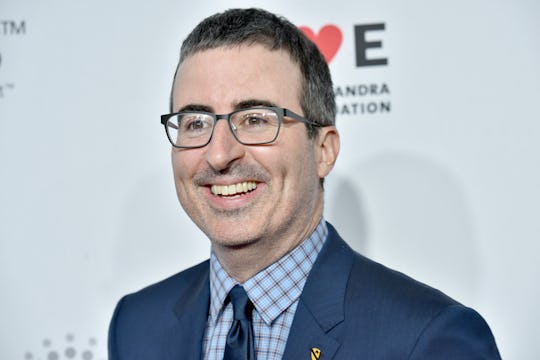 Bryan Bedder/Getty
John Oliver's 'Last Week Tonight' Is Going On Hiatus
Frankly, I don't know what this great nation would do without the insightful commentary of our late night talk show hosts — particularly the ones whose shows have a political bent. Which is why I really need to know exactly when John Oliver's Last Week Tonight returns for Season 5. The fourth season of his incredibly popular (and extremely hilarious) show is coming to a close this Sunday, which means everyone has to now sit around and twiddle their thumbs every week without Oliver's patented humor to bring levity to the latest national tragedy in the news.
Since the departure of Jon Stewart from The Daily Show, which kind of started the whole late night political humor thing, it has been Oliver more than anyone who's taken up this mantle — providing incisive commentary on the news of the day while gently (or not so gently) poking fun at the politicians who caused the problem to begin with. While Last Week Tonight cannot precisely be called news, and Oliver insists that it's a comedy show and that he is not a journalist, the show does a lot of hard-hitting, um, not-journalism reporting on the most important issues of the day.
Luckily, HBO seems to agree that, journalist or not, we all need Oliver's Last Week Tonight. The show will definitely be back for a fifth season, but the date has not been confirmed yet. On the show's official Twitter they said, "Our season finale airs this Sunday at 11 on HBO. Our next season 'beginny' will be next year." For clarification's sake, they then tweeted "Oh, right. 'Premiere.' The word we meant was 'premiere.' 'Beginny' isn't anything. Sorry about that." I'm OK with making "beginny" a word to be totally honest. But whatever you call it, it is indeed coming.
Since I don't have a precise date to count down the days to, I will have to rely on precedent to best determine when the show is going to come back. Season 3's final episode aired in the second week of November back in 2016, a mere week after the United States elected Donald Trump as president and the world briefly stopped spinning on its axis. The show didn't return until February of 2017, three long weeks into Trump's presidency. If I managed to get through those long months without Oliver's guidance, I suppose I can make it through anything the rest of 2017 has to throw at me. After all, how much worse could it get now?
The other good news is that Last Week Tonight has already been renewed by HBO for another three seasons. "We are thrilled to have John Oliver as an integral part of the HBO family and to continue to share his comedic brilliance with the world," HBO Programming president Casey Bloys said in a statement, according to Deadline.
Meanwhile, Oliver's response was just as warm — in his own way.
First: I firmly disagree with everything Casey just said. Second: We're very grateful to Richard Plepler, Casey and everyone at HBO for letting us continue to do whatever it is we actually do. And finally: We'd also like to thank our staff for all their hard work. We're incredibly proud of all of you, and rather than tell you that to your face, we'd like to do it in the cold, dispassionate form of a press release.
So even though the Emmy-winning show has to disappear for a few months, at least I can rest easy knowing that it will be here for me for at least the next few years.
Check out Romper's new video series, Romper's Doula Diaries:
Watch full episodes of Romper's Doula Diaries on Facebook Watch.