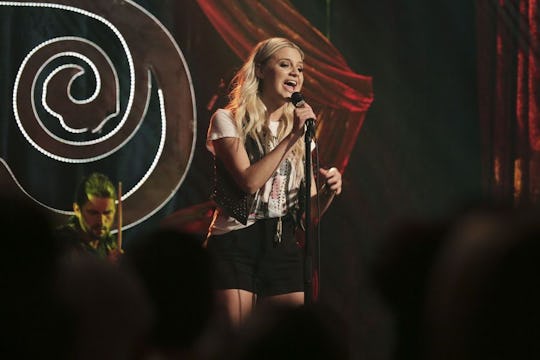 Mark Levine/ABC
When Does Kelsea Ballerini's Next Album Come Out? The Singer Is Making A 'Nashville' Debut
Country music star Kelsea Ballerini just released a new single off her debut album The First Time and she'll be performing the track, titled "Peter Pan," on Nashville's Season 4 episode "The Trouble with the Truth." Ballerini plays herself in the May 4 episode, singing "Peter Pan" at Deacon and Frankie's new bar/music venue The Beverly. While the co-owners are currently in a tussle, they do both show up for Kelsea's performance. But her appearance may have country fans wondering, when does Kelsea Ballerini's next album come out?
Well, she's currently still touring for and promoting her debut album, which came out last May. "Peter Pan," which first hit country radio on March 21, 2016, is her third single off The First Time. The music video dropped its music video on April 1. While Kelsey has not announced a release date or any plans for her next album just yet, we do know that she at least has plenty of songs written to fill it up with!
She told West Virginia's The Exponent Telegram in an interview:
"Songwriting is something I do all the time. It was hard for me to pick songs for this album [The First Time]. I have a lot of them. I have the next album written and ready to go."
In the mean time, Nashville has graciously rewarded us for our patience with this sneak peek of Kelsea's performance from the episode in which she guest stars.
She's also been a little busy sweeping up accolades like the Rising Star Award at Billboard's 2016 Women in Music Awards, the 2016 ACM award for New Female Vocalist, the 2016 American Country Countdown award for Breakthrough Female of the Year, and, most recently, the Radio Disney Music Award (betcha didn't know that was a thing) for The Freshest Best New Artist.
The First Time is also readily available for stream and download! You can stream it on Spotify, steam it on Amazon Music if you're an Amazon Prime customer, or buy it on iTunes. After leaving a trail of scorched earth behind her, performing to overwhelming acclaim on the award show circuit, it's no wonder the 22-year-old starlet has been plucked by Nashville for a guest performance.