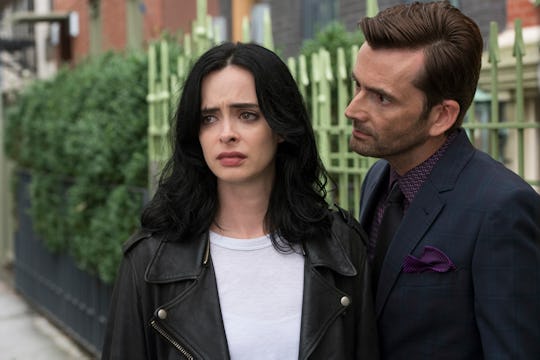 David Giesbrecht/Netflix
Kilgrave's Return Is Imminent In 'Jessica Jones' Season 2
Even though the first season of Jessica Jones ended with Kilgrave's death, fans have good reason to suspect that he'll still be making an appearance in the new season when it debuts on March 8. But when does Kilgrave appear in Jessica Jones Season 2? It's impossible to pinpoint the exact moment he'll make his grand return, but that doesn't mean viewers can't speculate.
Fans got their first glimpse of Kilgrave in Season 2 thanks to on-set photos that revealed David Tennant was filming alongside Krysten Ritter once again. Then the trailer for the season ended in a slow clap and purple glow that could only be a sign of the man himself, since purple was his signature color. Considering the show isn't bothering to hide the fact that Kilgrave will be in the new season, that could be an indication that he's there from the very start. Based on those set photos, it looks like Kilgrave is haunting both Jessica and Malcolm, which would make more sense in the early part of the season because his abuse of them both (and his subsequent death) would still be fresh.
While there's always a chance that the show will be holding back on the big reveal until later, it seems fair to assume that Kilgrave will be in the beginning of the season to continue his story from Season 1. Later on, there might be different enemies to focus on instead.
Now that the episodes are available, you can predict Kilgrave's appearances by matching outfits and locations to the set pictures. When Jessica is outside with Malcolm, standing beside a brick building with bright blue window-frames while wearing her typical T-shirt and leather jacket, you will know that Kilgrave is imminent. It may not give you much time to prepare, but at least you won't be totally surprised by him suddenly materializing at Jessica's side.
In an interview Ritter did with Entertainment Weekly, she seemed to confirm my personal theory that Kilgrave shows up early on in Season 2, saying, "Jessica is in a pretty dark headspace when we meet her at the top of Season 2." That dark headspace could very well include visions of Kilgrave, especially since she only just dispatched with him after years of torment.
Showrunner Melissa Rosenberg also spoke to EW about the direction Jessica's story took overall in the second season, explaining that it would be going in even deeper when it came to exploring Jessica's trauma. "As you've seen in Season 1, she was somewhat of a mess even before Kilgrave came into her life, so it was really just about digging deeper into this chaos and peeling back those layers, just going to the core of her being," Rosenberg said. "That was our objective."
Once again, that could be another clue that Kilgrave's appearance is something that happens in the first few episodes of the new season. It's the storyline that's carrying over, so it needs to be dealt with before Jessica Jones can delve deeper into the past of its titular heroine. Of course, that is just a theory. The show may bring Kilgrave back in a more unexpected way. All of the promotional material may hint at the early arrival of a Kilgrave who is just in Jessica's head, but you never know what twists the season will bring to keep the audience guessing.
It may be difficult to determine what episodes Kilgrave will be popping up in, but viewers know for sure that he will be back in some capacity. Unfortunately, the downside is that your only warning might be a sudden purple shift in the lighting.
Check out Romper's new video series, Romper's Doula Diaries:
Watch full episodes of Romper's Doula Diaries on Facebook Watch.