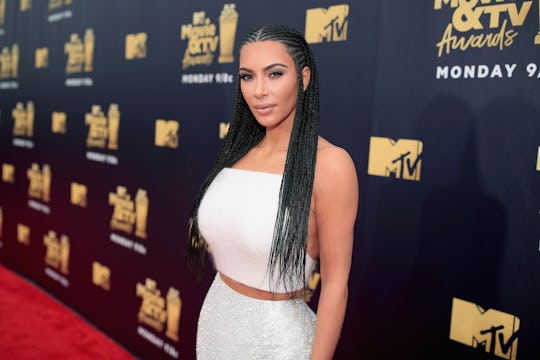 Christopher Polk/Getty Images Entertainment/Getty Images
Here's When Filming For 'KUWTK' Season 16 Finally Begins
I know fans are watching Keeping Up With The Kardasians Season 15 while already wondering about the next season. When does KUWTK Season 16 start filming, anyway? Viewers don't have to stress, because their favorite family will be back once again.
Thankfully, Kim Kardashian knows what fans want. Kim took to Instagram on August 20 to say that Season 16 filming will begin the following week. "We start filming Season 16 of KUWTK next week," the caption read, "Woke up feeling forever grateful!"
There's already a lot of the Kardashians' lives viewers will catch up with — or keep up with, I should say, in Season 15. At the end of Season 14, Kim was getting excited about the birth of her third child, Chicago West, which she and Kanye had via surrogate. Chicago was born on January 15 of this year, so viewers can probably expect Kim's younger daughter to be featured.
But of course, she is not the only baby to be born in the timeline of Season 15 filming — in fact, there are two more! Kylie Jenner gave birth on February 1 to Stormi, her child with Travis Scott. As fans are well aware by now, Kylie largely hid her pregnancy until Stormi arrived. "Pregnancy has been the most beautiful, empowering, and life changing experience I've had in my entire life and I'm actually going to miss it," Kylie wrote on Instagram on February 4. "I appreciate my friends and especially my family for helping me make this special moment as private as we could. … I've never felt love and happiness like this i could burst! Thank you for understanding."
While the family hasn't confirmed or denied anything, it's doubtful that Kylie giving birth to Stormi will be featured on Season 15, even though it was around when they were filming the season. It's clear that Kylie wants to keep this part of her life private — or at least more private than the rest of her life. I mean, she kept her entire pregnancy off of social media, and considering Kylie is a social media mogul, that is pretty big.
There is still one more birth to consider being on Season 15: that of Khloé Kardashian's baby, True Thompson. According to Us Weekly, E!'s cameras were not in the birthing room even though it occurred while the season was being filmed. "Filming is currently underway, but Khloé hadn't been filming since she went to Cleveland ahead of the birth," a source told Us Weekly. "She just wanted to have those few weeks of no cameras around." The source did note, however, that her family members were there and may have filmed on their own cameras.
I respect the Kardashian sisters' desire for privacy during the birth process. I can't imagine how difficult it is to bring a child in the world, let alone with a huge camera and cameraman right up in your business. Regardless, Season 15 ought to be one to remember. But what about Season 16? Well, considering filming begins next week, no one knows what will happen. But as the months progress and the next Kardashian news arrives, fans can be assured it'll be on the show — and if it's not, it'll be a big deal.
If nothing else, fans can look forward to seeing all the new Kardashian and Jenner babies grow in Season 16 after seeing their birth (or post-birth) in Season 15. For now, fans can enjoy new episodes while "keeping up" in real time on social media.