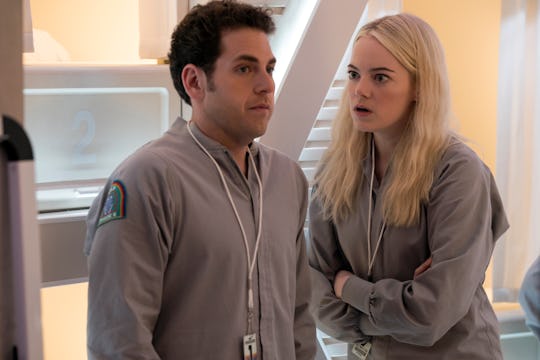 Michele K. Short / Netflix
Emma Stone & Jonah Hill's New Netflix Show Looks *Amazing*
Imagine this: the year is 2007. Emma Stone and Jonah Hill step onto the set of the coming-of-age comedy, Superbad, and become the iconic duo we didn't know we needed. Who would've thought high school seniors, Jules and Seth, would reunite 11 years and multiple Oscar noms later in, what looks to be, the twistiest new series in the 2018 fall lineup. So when does Maniac premiere on Netflix? Grab a pen because it's a lot sooner than you think.
The official release date of the dark comedy is set for Friday, September 21 but fans have been losing it on the interwebs for months now, and rightfully so. The announcement came two whole years ago so everyone's Superbad-loving hearts are ready. There mere mention of a Stone-Hill reunion is giddy-inducing. This mind-bending remake of the 2014 Norwegian series under the same name boasts other mega celebs like Sally Field, Justin Theroux, Julia Garner (Ozark) and Jemima Kirke (Girls). During the Summer 2018 TCS presentation, Director Cary Fukunga —previously of Beasts of No Nation, The Alienist, and True Detective — calls the series a "fever dream." Add the genius of The Leftovers screenwriter, Patrick Somerville, and your Netflix queue just got a hell of a lot cooler.
So what's the actual premise, you ask? Maniac follows two strangers, Annie Landsberg (Stone) and Owen Milgrim (Hill), through the late stages of a pharmaceutical drug trial that maybe isn't the best idea after all. Annie's in need of healing as she struggles with her fixations on all the broken relationships in her life. Owen's the fifth son of five in a well-to-do family of industrialists but his disputed Schizophrenia diagnosis has him in search of a radical, new treatment. The good doctor (Theroux) believes minds can be solved and any mental illness can be cured through this sequence of pills. Mental illness, heartbreak — all of it, cured. Along with 10 others, this three-day drug trial at Neberdine Pharmaceutical and Biotech promises a permanent remedy for all, with no side effects or complications.
As told on a voiceover in the first official trailer, Theroux's character has a belief system you want to get on board with, "Once you begin to appreciate the structure of the mind, there's no reason to believe that anything about us can't be changed. The mind can be solved."
It all sounds good in theory which is why Theroux's character provides this mysterious "miracle" drug." All is well, right? Yeah, not so fast. The trial is a big mistake when Annie and Owen realize they can no longer tell reality from imaginary. If it sounds b-a-n-a-n-a-s, early chatter assures it definitely is. Leaked set photos earlier this year showed the "participants" sitting in matching grey jumpsuits with what looks like space-age headphones on either side of them. The original version tells the story of two characters trapped in a mental institution as they try to escape their dream worlds. The whole thing is very Inception-esque and I'm not mad about it.
Stone and Hill both have producing credits on the series so it'll be interesting to see how things play out in what Rolling Stone hails as one of the most anticipated shows of 2018. It's also unclear if this script will mirror the more straight-forward comedy of its Norweigan source or stick to the dark aspect of "dark comedy" but Fukunga's known to leave his own identifiable mark. Despite what little additional info we have on Maniac, seeing Hill and Stone together again just feels right.
Watch the official trailer here:
There's no word on a second season yet, but don't worry — there's still time. Although, in the vein on Maniac, this could all be a "multi-reality brain magic" and you were never here to begin with.