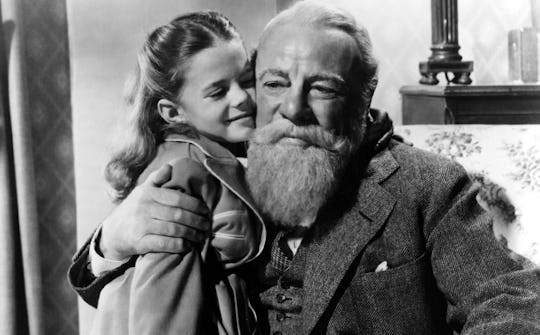 20th Century Fox/Everett Collection
When Does 'Miracle On 34th Street Air?' It Could Be Tricky To Catch This Classic
Post-Thanksgiving, the holiday season officially kicks off, and with it all the delightful Christmas movies that air throughout the season on TV. Everyone has a favorite Christmas classic (mine happens to be the Claymation Rudolph the Red-nosed Reindeer), and everyone is now trying to find out when their flick is airing on TV. When does Miracle on 34th Street air, for example? If you're hoping to catch the original 1947 version, you're going to have a lot harder of a time with it.
The original Miracle on 34th Street starred Maureen O'Hara as the single mother to a young Natalie Wood and centered around a Macy's Santa Claus who gets sent to an insane asylum due to the fact that he actually believes he really is Santa Claus. The film was an instant classic and has been on American holiday must-watch lists ever since. Unfortunately, there's no sign that this film will be airing as one of the many, many classic films specially airing on network television this year. It may perhaps be easier to catch the 1994 reboot of the film, Miracle on 34th Street, which starred the ever doe-eyed Mara Wilson as Wood's character. Though it's not the same as the original, it was still a popular film that did well.
The 1994 version of Miracle on 34th Street is already available for streaming on Netflix, where those who want to get into the holiday spirit can access it whenever they want. As for the original, it's available for streaming via Amazon, or the old-fashioned way by renting a DVD ( how quaint), but sadly, if you were hoping to still catch it on TV, you missed your shot. Both versions of the classic film already aired on Thanksgiving, in fact kicking the whole holiday season madness into gear.
I do find it a bit odd, not to mention unfortunate, that neither of these will be showing on TV when the holiday and Christmas season is a little deeper underway, but if you did manage to catch them on TV somewhere between the turkey and the mashed potatoes then good for you. And if you missed your only shot, well then there's always next year (and plenty more Christmas movies to come).