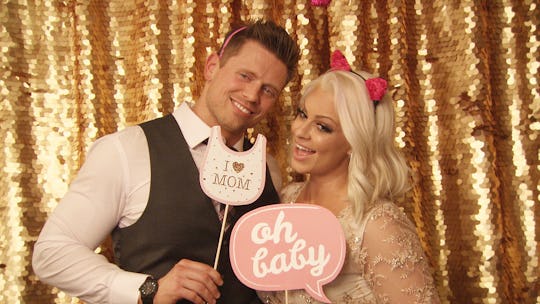 WWE/USA Network
There's A New Show About Pro-Wrestlers You Should Be Watching
WWE Superstars have since transcended the ring to go on to be reality TV stars and actors. Now Mike "The Miz" Mizanin and Maryse Ouellet are the latest WWE Superstars to get their own show. The show, titled Miz & Mrs, will follow the married couple as they become parents for the first time. So when does Miz & Mrs premiere? It's coming soon!
The new docuseries will premiere on USA on Tuesday, July 24 at 10 p.m. ET. The first season will consist of six half-hour episodes. Along with following the couple as they become parents, the show will also give fans a look into the stars' private lives.
If you're unfamiliar with The Miz, he's a former WWE Champion, an eight-time Intercontinental Champion, and a six-time tag team champion. In addition, The Miz has gotten into acting. He's made appearances on the TV series Sirens and Supernatural and took over the starring role of The Marine franchise, succeeding fellow WWE Superstar John Cena.
The Miz's wife, Maryse, is also a star in her own right. She's a former WWE Divas Champion and she and the Miz tangled with Cena and Nikki Bella at Wrestle Mania 33. The Miz and Maryse were the company's top villains, until Maryse had to leave the ring after the couple announced they were expecting their first child. Though Maryse has stepped away for a long absence to give birth to their daughter, Monroe, she's still very popular amongst WWE fans.
Along with showing the couple's journey through parenthood, viewers will also get to see the couple make the move to Austin, Texas and attempt to get along with Maryse's mother. While that's all well and good, with the new show about to air it's led to many fans now wondering if Maryse plans on returning to the ring soon. Unfortunately, Maryse told CBS Boston that she's just not sure right now. Currently she's focused on being a mother, and that's not exactly conducive to being on a travel schedule that would take her away from home for weeks at a time. Still, her answer was definitely more of a "not yet" rather than a "never" so there's certainly hope.
Whether or not Maryse heads back to the ring, fans are definitely excited for the new series, as they should be. Maryse and The Miz are an incredibly fun couple, and besides the fact that they're so obviously in love with each other, they're also just really funny. Based on the previews for the show alone, it's easy to see that this docuseries will be filled with laughs. For instance, in one scene, The Miz and Maryse go out to dinner, and while The Miz gets a reasonably priced meal at about $40, Maryse somehow racks up a bill of $600.
Similarly, in their interview with CBS Boston, the two got into a disagreement over who was better at changing Monroe's diapers. The Miz swears up and down it's him, and Maryse let's him have it, saying, "It's like I have to raise my daughter and I have a five-year-old that's actually 37, my husband."
The couple also shared a funny story about how Maryse wanted to do an implied nude photoshoot while she was pregnant, and The Miz took that to mean he had to show up buck naked. In case you were wondering, it absolutely did not. "How the heck do you walk onto a set completely fully naked?" Maryse asked him during the interview, to which The Miz replied, "Because I wanted to make everyone feel comfortable." Well, how can you argue with a nice response like that?
You can see more of The Miz's hijinks and how Maryse's deals with raising a baby and a big kid when Miz & Mrs premieres on USA on Tuesday, July 24 at 10 p.m. ET.