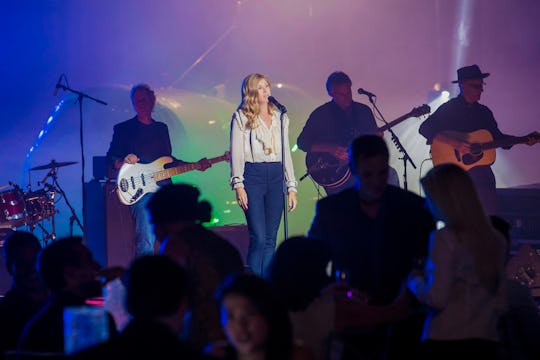 CMT
When Does 'Nashville' Return? Season 5 Brings Changes As It Moves To A New Network
After spending all four of its seasons on ABC "on the bubble," Nashville finally, formally got the ax last year from its Wednesday night network primetime slot. Unfortunately, the ax happened to drop on a huge cliffhanger that left one of the lives of the show's lead characters, Juliette Barnes, hanging in the balance — literally. The last scene of Season 4 showed her ex Avery learning that her private plane has gone missing mid-flight back to Nashville. Thanks to a hearty groundswell of fan support, however, Nashville got rescued by CMT. So when does Nashville Season 5 return in full force? There's one more tease left before we get all the way into the show's fifth installment.
The show's move to cable also brings with it a time slot change. Nashville will move to Thursday nights at 9 p.m. (ET) permanently starting on Jan. 5. But the country music cable network is giving fans a little sneak peek at what's in store by airing the first hour of the two-hour season premiere on Thursday, Dec. 15 at 9 p.m. (ET). But that's all you'll get for the time being. Fans will have to wait until Jan. 5 to catch both parts of the two-hour premiere, and keep following along every Thursday after that. The show's fifth season is slated to run for 22 episodes.
The trailer for Season 5 mostly functions as a recap of what happened last season, but we do get one key glimpse of Juliette's plane in distress, presumably as it's going down, and a shot of Avery and Cadence looking through the door of what looks like a hospital room. And thanks to TVLine, we know that Juliette "barely survived" her plane crash, which rattles Rayna, giving her some big emotions to work through.
Early reports on the new season also indicate that Nashville feels more like a cable show, rather than a network drama, with the switch. For example, the super soapy (and kind of contrived) plot twists and turns of yore are left behind in favor of more thoughtful storytelling: more time for character arcs to develop, more emotional work, and more talking. As TVLine puts it, "The much-discussed slower pace of the action is a boon to the show's central relationships."
That also means that Rayna and Deacon get to function more like an authentic couple with real-life relationship navigating in lieu of dramatized damage control, like celebrity paternity reveals and teenage emancipation. With Maddie moving back home at the end of Season 4 and the family back together again, that will hopefully mean some more realism-based family drama moments. But fans of the show's music have nothing to worry about — performances will continue to be a vital part of Nashville's storytelling, even on its new network. Get excited, y'all!