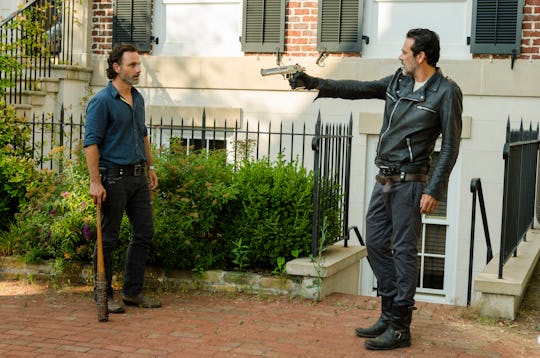 Gene Page/AMC
When Does Negan Die In 'The Walking Dead' Comics? He's Not Going Anywhere
The first half of The Walking Dead Season 7 came to a close in "Hearts Still Beating," giving fans a few months to digest just how they feel about Negan before the show returns with a second helping of its long-awaited villain. It seems like the show is putting all of its eggs into Negan's basket considering the lengthy build-up to his very first appearance in the Season 6 finale, then eight episodes spent relishing in his villainy. Not to mention the fact that Jeffrey Dean Morgan is locked in for Season 8, too. So the fans who are waiting for him to get his comeuppance might be waiting a long time. But do the comics provide any information about when that wait will end? When does Negan die in The Walking Dead comics?
The answer is an unsatisfactory never — or at least not yet. The comics are ongoing, currently embroiled in a new war against a new community, and Negan is still alive. He's even part of the team, sort of. He's not exactly redeemed, but he is fighting on Alexandria's side, which is quite a change from his weekly terror tourism on the show. So how exactly does all of that unfold?
Negan was eventually defeated thanks to some careful planning, some double-crossing from Dwight, and an alliance between Alexandria, Hilltop, and the Kingdom. However, even though he was removed from power, he was not, unfortunately, removed from the face of the earth. Rick chose not to kill Negan for very noble hero reasons, instead locking him up in an Alexandrian cell where Negan languished for two years. He was eventually broken out just in time to get involved with the battle against the Whisperers.
The ultra-creepy Whisperers, who wear zombie skin like its the newest trend, took offense when Alexandria edged onto their territory and beheaded a bunch of their people as revenge — including Rosita and Ezekiel. Negan decided to help out by infiltrating their camp and killing their leader, and these days he's a part of Rick's anti-Whisperer militia.
What's interesting is that Negan was never supposed to last that long. During an NYCC panel, comic writer Robert Kirkman said:
When I run out of ideas for Negan, I'll just kill him. Negan was supposed to die at the end of the Something to Fear arc. He was originally supposed to be in the book for only four or five issues... It was supposed to end when Maggie takes over the Hilltop. Rick was going to deliver Negan's head in a box to Maggie to say, 'I'm sorry.'
The people behind the scenes both on the show and in the comics take obvious enjoyment in Negan as a character. This dedication to making Negan a part of things is evident throughout Season 7, and will have an impact going forward as well. Ever since his introduction, things have shifted not only to accommodate Negan, but also to make him the center of the story. The fallout of his actions ends up feeling like it's not so much about the people he killed, but what crazy thing he will say or do next.
So as long as there are storylines for Negan, and as long as the people writing him are getting a kick out of it, he's not going anywhere. Negan is the future.