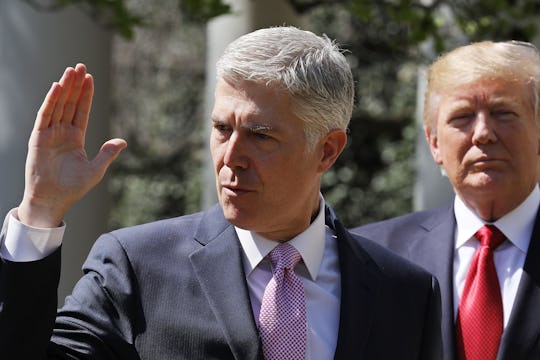 Chip Somodevilla/Getty Images News/Getty Images
Newly-Minted Justice Gorsuch Starts Work Immediately
On Monday, Neil Gorsuch was sworn in as the 113th justice of the Supreme Court, taking over the seat once occupied by Justice Antonin Scalia before he passed away in February 2016. With President Donald Trump, who nominated Gorsuch, looking on, the 49-year-old justice took his judicial oath in the White House Rose Garden. Now that he's been sworn in, when does Gorsuch start work on the Supreme Court? As it turns out, he'll get to work with the rest of the justices very soon.
According to The New York Times, the public swearing-in event at the White House was attended by all eight other justices, as well as "several conservative activists." And as much as Trump and many Republicans seem to see Gorsuch's confirmation to the Court as a victory, the event is embroiled in controversy. The outlet pointed out that just over a year ago, President Barack Obama announced his own Supreme Court selection of Judge Merrick B. Garland to succeed Justice Scalia after the justice suddenly passed away. But Judge Garland was never even given a hearing, as Senate Republicans refused to allow one.
With all the controversy that could have blocked his appointment now passed, and his swearing-in over and done with, Gorsuch is likely to begin work very, very soon.
CBS News' Chief Legal Correspondent Jan Crawford said that now that Gorsuch has been confirmed, the new Supreme Court justice will start work immediately. As in, this very week. The outlet reported that he will sit in on the justices' conference on Thursday, and have a say in upcoming cases to add to the docket.
He'll also begin hearing arguments and casting votes in those cases, as the court is still in session until June. So when experts say Gorsuch will start right away, they mean it. No rest for the wicked and all that, especially when starting a job with a court that has "largely avoided cases where they would be likely to split 4-4" as a result of the only eight-person lineup, according to The Dallas Morning News.
The Washington Post also reported that Gorsuch will start work immediately, starting with the full court meeting privately Thursday to consider cases for the next term. According to that outlet, "on the list is a plea that the court decide whether the Second Amendment grants a right to carry firearms outside the home. Another asks whether businesses may refuse to provide wedding services to same-sex couples."
In addition, the Washington Post reported that the newest justice, "could be the deciding vote in a major separation of church and state case from Missouri." The outlet also noted that the court may reveal deadlocks on some cases it's already heard this term. — and in that case, the court would schedule rehearings for those instances so Gorsuch could break the ties. So it's pretty clear Gorsuch will be involved in some big decision-making right off the bat.
PBS reported that by late spring or early summer, the Supreme Court could also be asked to consider President Donald Trump's proposed ban on visitors from six countries — which are majority Muslim nations. With Gorsuch now sworn in, he could have a say in such a decision, among many others.
So despite a filibuster by Democrats to stop the nomination of Gorsuch to the Court (with Republicans agreeing Thursday to end the 60-vote threshold necessity for Supreme Court nominees using the long-debated "nuclear option"), things for Gorsuch and his Republican and Democratic backers are ready to roll forward.