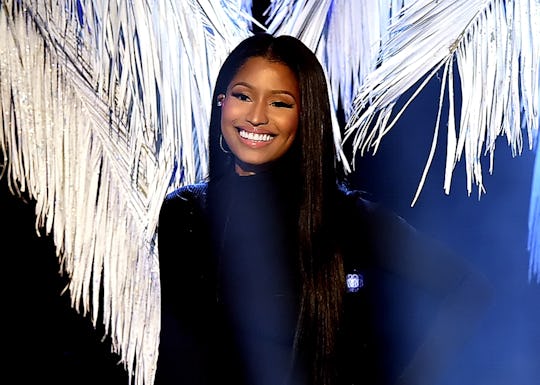 Kevin Winter/Getty Images Entertainment/Getty Images
When Does Nicki Minaj's Mobile Game Come Out? The Star Teased Her New App
Great news for anyone who's tired of feuding with Willow Pape on Kim Kardashian: Hollywood. Remember back in the summer of 2015, when Nicki Minaj promised that her own app was forthcoming? Well, the wait's finally almost over. Nicki Minaj: The Empire comes out on December 8, just in time for you to play it in the bathroom during your family holiday gathering while avoiding your cranky toddler or your weird uncle. The singer-rapper shared a short preview of the game on her Instagram on Wednesday, and it looks a lot like the Kardashian game. According to Cosmopolitan, it was developed by the same company, Glu Mobile.
Just like the original, players can customize their own avatar's clothing, hair, and makeup, but according to Minaj's caption, there's some extra content exclusive to her game. Fans of Minaj know that she changes her hair with the weather, and her fans will have tons of wig-editing options, including highlights and even different colored roots. And those who got bored working as a shop girl or a club promoter in Kardashian's game will be psyched to learn that in Minaj's game, players are tasked with building a rap empire, and will even be able to record themselves rapping along with the star, and then share the track with other players.
Vibe reported earlier this year that players will also be able to create music videos in the app (no word on how many coins you'll need to fork over for a snake), and like Kardashian's game, customize an apartment and throw parties. According to MTV, players can also "perform with your crew at the hottest clubs and music venues." Sounds a lot more interesting that Hollywood's modeling gigs and agent meetings. But will there be an adorable stray cat that's somehow ridiculously expensive to adopt?
The game will launch on both iOS and Android platforms, and users will be able to chat with each other in private rooms. The game contains in-app purchases, but I beg you, don't do it. Don't be like those poor souls who collectively spent millions of dollars playing Kim Kardashian: Hollywood and have nothing to show for it. If you want to sing or rap in front of an adoring audience, head to your local karaoke bar, or start a YouTube channel. If you want to play dress up, do it in real life. And if you want to feud with whoever Minaj's version of Willow Pape is, maybe just tweet Miley Cyrus and ask her what's good.