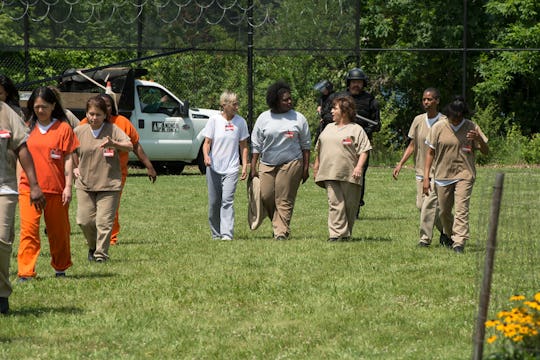 JoJo Whilden/Netflix
When Does 'Orange Is The New Black' Season 5 Premiere? You'll Have To Be Patient
(Warning: This post contains spoilers from Orange Is the New Black Season 4.) So, you just finished Season 4 of Orange Is the New Black and you're already wondering "Now what?", right? Season 4 of the beloved Netflix show is one of the best the series has ever had. It was timely — in the most chilling sense — it was relevant, and fans were finally able to see some of the most important characters' backstories. If you've finished the season, you may already be wondering when Orange Is the New Black Season 5 premieres, and honestly, welcome to the club.
All good things must come to an end, which is certainly the case for Orange Is the New Black Season 4. The season ends on many highly-anticipated cliffhangers with the Litchfield inmates rioting against the guards, Poussey's death, and Judy King's potential departure from the prison. So, how much longer do fans have to wait for the next season to premiere on Netflix? Well, I hope you're patient, because its probably going to be a while. (Romper reached out to Netflix regarding a premiere date and did not hear back at the time of publication.)
While Netflix has not officially announced the premiere date of Season 5, fans can use a little math to figure out when Season 5 will premiere. With the exception of Season 1, all of the seasons of Orange Is the New Black have premiered within the first two weeks of June. So, if Netflix keeps with that schedule, which it usually does, fans can expect a premiere date for Orange Is the New Black Season 5 in June 2017.
That seems like a long time to wait considering some of us have marathon-watched the season the same day it came out. It is an entire year without new Orange Is the New Black. The good news is, you can go back and re-watch the first four seasons over and over again until Season 5.
Another good thing? Netflix has picked up Orange Is the New Black for a three-season renewal. That means that the show is guaranteed throughout Season 7 (and most likely through 2019). So, while you might be sad that you have to wait almost an entire year for the next season — assuming there are no delays in production — the silver lining is that you have at minimum three more years of the show to look forward to.