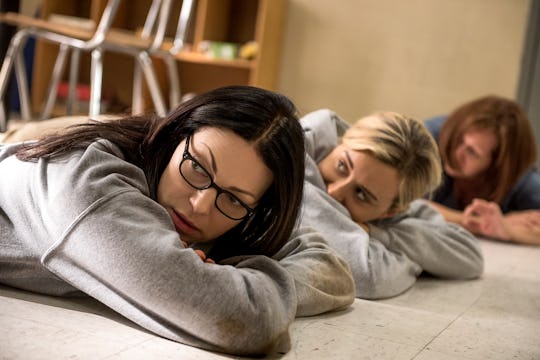 Jojo Whilden/Netflix
'Orange Is The New Black' Has Been Given A Longer Sentence
Over the past four years, Orange is the New Black has become one of the most beloved, award-winning, and critically-acclaimed shows on TV. With its large ensemble cast and commitment to telling the stories of women (and particularly, women of color), there's truly nothing else quite like the series on air today. Created by Jenji Kohan, the series took Piper Kerman's memoir as a jumping off point, but expanded the world of Litchfield Penitentiary far beyond that initial real-life scope. So with its upcoming fifth season, many fans are already wondering: When does Orange is the New Black Season 6 premiere?
Because of the show's popularity, it's no surprise that it's won an early renewal. In fact, Orange is the New Black Season 6 was confirmed over a year ago — even ahead of the debut of the show's fourth season. In a press statement released in February 2016, Kohan announced that Netflix had renewed the show for a whopping three more seasons, all the way up through the seventh. That means that, after Season 5 premieres on June 9, we have at least two more seasons of the show to look forward to.
Can I get a "heck yes," fellow OITNB fans?
As anyone who follows the TV industry is aware, a renewal of multiple seasons at a time is extremely rare. Generally, a network will renew a show for a season at a time. The difference, of course, is that Orange is the New Black has been consistently well-received, by critics, viewers, and awards academies alike. This Is Us experienced something similar. NBC's massively popular family drama was a hit almost from the moment it premiered, and so the network renewed it for a second and third season before the first had even finished airing.
As for when fans can expected Season 6 to debut, however, that particular detail has yet to be announced, though I'd wager that it will most likely happen during the early part of June 2018, if past premieres are any indicator.
Despite the fact that OITNB is guaranteed to stick around for at least two more seasons beyond the upcoming one, the actual timeframe of the show won't likely be nearly as long as that. Unlike many other series, Orange is the New Black has stayed away from time-jumps and often a new season will pick up right where the last left off, as was the case with Season 4 and now Season 5. While most other seasons of the show have progressed normally (but vaguely) time-wise, Season 5 has an added twist: It takes place over the course of only three (presumably drama-filled) days at Litchfield, during the prison riot started by Taystee at the end of Season 4.
Knowing that they have at least two more seasons to wrap things up is almost a guarantee that Season 5 of Orange is the New Black will shake things up considerably. I, for one, can't wait to see what unfolds.