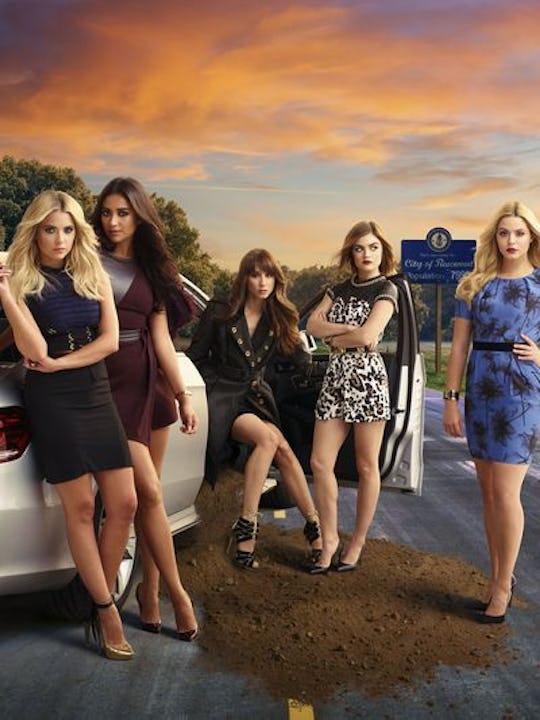 Freeform
When Does 'Pretty Little Liars' Season 7B Return? It Should Be Back Soon
Pretty Little Liars has had an eventful Season 7, which makes sense because this is the final season of a show that has gone on some pretty loopy journeys over the course of its run. Everything looks like it's starting to fall into place as the main four girls get their lives together and try to conquer the most recent foe who is out to get them. There's good news and bad news about that. The good: the show isn't over yet. The bad: the first half of the season is. Season 7A is coming to a close on August 30, giving fans a break before it resumes. But when does Pretty Little Liars Season 7B return?
An official date hasn't been released yet, but PLL is no stranger to splitting seasons so it's not too difficult to make an estimate about the show's return. Season 6 broke in early August and returned in mid January; Season 5 broke in late August and was back by December. The show runs in summer and winter, so it seems a fair bet that Season 7 will pick up where it left off sometime in the beginning of 2017, or possibly in December of this year. PLL has also enjoyed Halloween specials throughout its run, so it's always possible that it could be back for an episode in October. However, there has been no announcement to that effect.
The second half of PLL's Season 7 will see the return of some old faces and the introduction of some news ones, too. The show's final season has been a parade of past characters, with seemingly everyone coming back for one final farewell before the show finishes up. Noel, Jenna, Jason, and Paige are just a few of the characters who have been back so far; Wren and minor character Holden are still set to appear at some point.
A brand new character has been cast, too: a young girl named Addison who sounds a lot like Alison 2.0, down to the similar names and the fact that she's described as an entitled, manipulative bully. The creation of her character has some wondering if PLL will continue into Season 8 with a new cast and a return to its original high school setting.
But that's still a long way off, and PLL has a lot of ground to cover before it ties up for good.