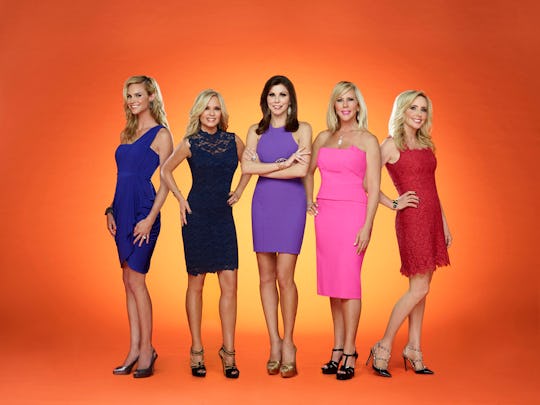 Paul Drinkwater/Bravo
When Does 'Real Housewives Of Orange County' Start? Here Are 7 Things To Look Out For
If the brief gap between seasons of the Real Housewives is too much to bear, have no fear – as soon as one arm of the franchise finishes out its season, another quickly rises to take its place so fans never have to be without that sweet, sweet drama for long. The new season of The Real Housewives of Orange County is imminent and if the trailer is to be believed, it's going to be a good one. Arguments, theme parties, cows, wine – Season 11 looks like it's going to have it all. When does The Real Housewives of Orange County start?
The show returns June 20, which might seem far off but will be here before you know it. All of last season's Housewives will be back, as well as one new face: a new Housewife will be joining Vicki, Tamra, Heather, Shannon, and Meghan, which will be sure to shake things up for the ladies. The trailer for the eleventh season is packed with fights, events, and blink-and-you'll-miss-it moments, so let's take a look at some of the more important things revealed.
Here are 7 things you need to look out for when the new season starts.
There's A New Housewife
The newest addition to RHOC is Kelly Dodd, a friend of Meghan's who is surprisingly going to end up getting close with Vicki. Her Bravo bio describes her as having "a penchant for gossip and drinking champagne," so it looks like she'll fit right in.
Brooks Is Back?
Brooks doesn't actually show up in the trailer but that doesn't mean he's totally absent, either. Vicki gives him a call so she can tell him, "I believe you and I love you," so even if he's not back for good, he's still a presence in Vicki's life. Considering what a sensitive subject Brooks is with the other ladies, that's likely to cause even more issues than it already has.
Terry & Heather Are Fighting
Terry and Heather have always had what seemed like a pretty decent relationship, even if his corny jokes sometimes grated on her. However, in the new season things are taking a turn, with Heather getting fed up with how constantly busy Terry is, presumably due to the success of Botched. Heather tells him he'll "say yes to anyone but us," meaning his family, and she's later shown sobbing in a car.
The Ladies Take A Trip To Ireland
No season of the Real Housewives is complete without a glamorous trip, but instead of the usually beachy locales, the ladies of RHOC are heading to Ireland this year. There promises to be drunken attempts at step dancing, and perhaps less drunken attempts to milk cows.
Meghan Is Trying For A Baby
There was a lot of parenting drama last season surrounding Meghan's connection to her stepchildren, and this year Meghan is looking to expand her family even farther. She and her husband will be trying for a baby using IVF, so maybe she'll be focusing on that this season instead of digging up more dirt on her costars' boyfriends. (Hopefully she can do both.)
Vicki Continues To Be a Magnet For Conflict
Everyone is yelling at Vicki again! This comes as no real surprise considering it happens almost yearly, but there's a reason Vicki likes to describe herself as the "OG of the OC" – she always brings the drama.
There's A Serious Accident
Tamra, Vicki, and Heather get into an accident when their dune buggy overturns several times while filming in the desert in California. This was reported after it happened initially because Tamra and Vicki had to be airlifted out to a hospital, but luckily all three women were fine.
It looks like there will be a lot going on this season, but don't worry too much about the wait until June 20 – the show will be back faster than you can say "whoop it up."