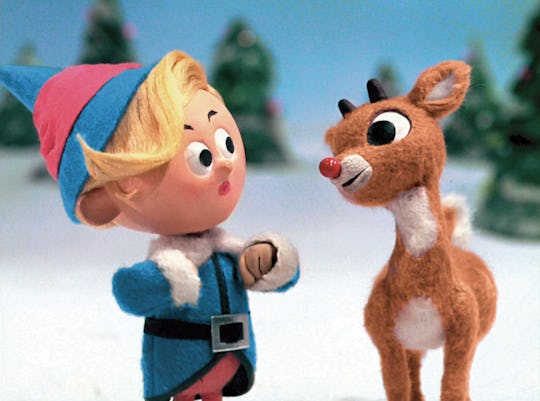 Rankin/Bass Productions
When Does 'Rudolph The Red-Nosed Reindeer' Air? You Have Two Chances To See It
With Thanksgiving now out of the way, it's time to prepare for my favorite holiday: Christmas! Get ready to jump head first into the holiday spirit with Christmas songs, shows, and movies. While there's always a new holiday film coming out, it's the classics that make it really feel like it's the holiday season. One of the most popular Christmas films to date is the 1964 claymation version of Rudolph the Red-Nosed Reindeer. So when does Rudolph the Red-Nosed Reindeer air this year? Thankfully, you'll have at least two chances to see it.
Before December even hits you'll be able to watch Rudolph the Red-Nosed Reindeer on TV. CBS will be showing this animated classic on Tuesday, Nov. 29 at 8 p.m. (ET). If you miss that first showing and forget to set your DVR, you can watch it again on Saturday, Dec. 10 at 8 p.m. (ET) on CBS once again. With at least two chances to watch, there's no way you can miss out on all the fun.
The classic movie is a claymation musical that is narrated by Burl Ives, an American folk singer, who also plays Sam the Snowman. The film tells the story of a young Rudolph who runs away from home to find a place that will accept him and his glowing red nose. Along his journey he meets an elf named Hermey who is also an outcast because of his dreams of becoming a dentist. And then, of course, they stumble across Yukon Cornelius who is in search of wealth. The score, which was created by Johnny Marks, includes the title song, as well as "Holly Jolly Christmas" and "We're a Couple of Misfits."
Rudolph's journey with his friends turns into an adventure that eventually leads Rudolph back home, where just like the song says, a big snowstorm hits and Santa has to cancel Christmas. However, thanks to Rudolph's bright red nose, he is able to lead the sleigh through the storm and Christmas is saved.
Since the first airing of the film on NBC, the film has been shown every year on at least one channel. There's also been two sequels to the film, including Rudolph's Shiny New Year and Christmas in July. Although the sequels aren't as popular, they are still shown from time to time and people understandably love them.
Make sure you tune in to Rudolph the Red-Nosed Reindeer this year on CBS. You won't want to miss it!