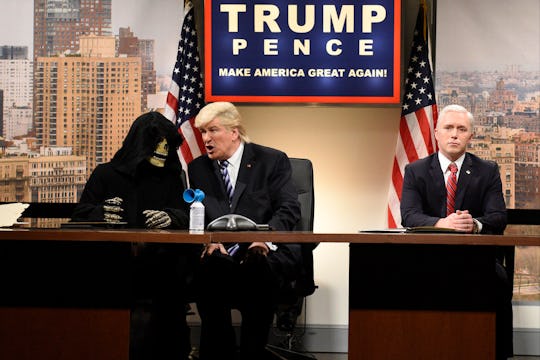 Will Heath/NBC
When Does 'Saturday Night Live' Return? The Winter Hiatus Won't Last Forever
After a glorious 10 episodes of Saturday Night Live for the world's most famous sketch comedy show's 42nd season, it's time once again for it to take a little break for a few weeks in light of the upcoming holidays. So when does Saturday Night Live return from its winter hiatus? There's no official date available yet, but never fear because I doubt it will end up being for very long. The show usually takes a break around this time and returns in January after about a month or so.
This season on Saturday Night Live has been particularly entertaining, for various reasons that have a lot to do with the state of our nation, and of the world in general if we're being honest. Kate McKinnon's Hillary Clinton won her an Emmy, while Alec Baldwin's Donald Trump was hilarious (and illuminating) more due to the fact that our president-elect is something of a walking parody of himself. The show has both enlightened and entertained us, so it's understandable if you're anxious for its return.
Though there has been no official return date released by NBC for the return of Saturday Night Live, based on the schedule of previous seasons, we can probably guess that it will return sometime just before or immediately after Inauguration Day, and Trump is the official president of the United States. And you better believe the show will do a skit centered around that day.
Season 41 of the show took a hiatus after its ninth episode in mid-December. It returned on Jan. 19 of 2016, after a one month break. While we don't know precisely when Saturday Night Live will be coming back to the airwaves, it's a pretty good guess to imagine that it will be back sometime in mid-January of 2017. Inauguration Day is on Jan. 20, and personally I am extremely excited for the Saturday Night Live interpretation of this auspicious day. Probably the only thing I'm really excited for about this inauguration.
Of course, because there has been no official date announced, we cannot say for sure if this season will follow the same pattern as prior seasons, but I think it's safe to assume that it will. So don't worry, my friends — SNL and my beloved Kate McKinnon will be back soon enough, and hopefully with some sardonic wisdom to get us through the first few months of a real-life Trump presidency. I have a feeling that we're going to need it.