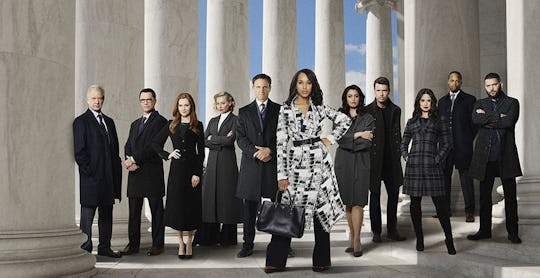 Craig Sjodin/ABC
When Does 'Scandal' Return? Season 6 Is Taking A Pause For This New Show
If you're going through Scandal withdraws you'll have to a wait a little while longer to grab your wine and popcorn. Due to Kerry Washington's second pregnancy the show's Season 6 premiere has been delayed. So when will Scandal return to our TV screens? Olivia Pope & Associates will be back for a midseason premiere in 2017, the date of which hasn't been announced just yet. In the meantime, Scandal fans will have a new show to become completely obsessed with. Breaking up Shonda Rhime's "Thank God It's Thursday" (TGIT) lineup, ABC's new drama, Notorious, will premiere on Sept. 22 at 9 p.m between Grey's Anatomy and How to Get Away With Murder.
The new show will follow defense attorney Jake Gregorian (Daniel Sunjata) and TV producer Julia George (Piper Perabo) as they attempt to control the media and the justice system, while also trying to control each other. Although it's not a political drama like Scandal it'll definitely capture Scandal fans attention. Based on the trailer for Notorious you can tell Julia has the same no nonsense attitude as Olivia Pope and also the same level of moral ambiguity. Both ladies know how to get stuff done and have an awesome team backing them up. Plus, I can already see a relationship possibly forming between Jake and Julie that may satisfy our Olitz feels for a little while.
This show will be filled with lies, betrayals, questions of trust, and did I mention the drama? Scandal fans may want to pop open those bottles of wine and pop their popcorn a little bit early. Notorious will suck people in just as quickly as Scandal did and keep fans on their edge of their seats. Although having to wait a bit longer for the return of our favorite Scandal characters is a bit frustrating, watching Notorious will be a sufficient distraction for our pain and make the wait time go by much faster.
So before you dismiss Notorious as just Scandal filler, give a try. You may just find that you have a new show to obsess over. Plus, you know you'll be watching Grey's Anatomy and How to Get Away With Murder. Why not stick around for the whole trifecta?