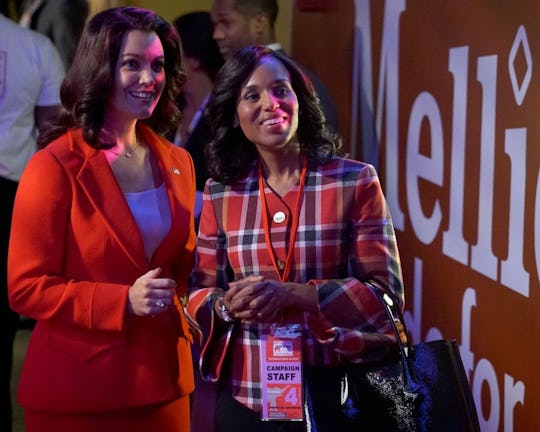 ABC/Byron Cohen
When Does 'Scandal' Return? Season 6 Will Feature A Cutthroat Presidential Race
We are, for the most part, very excited for the impending summer time. What we're not looking forward to, however, is some of our favorite shows ending for the season. Scandal, for example, wrapped up on Thursday night – and warning, this post does contain spoilers for the season finale. As usual, we're already eagerly awaiting when it will come back. Scandal doesn't show any signs of slowing down, so when can we expect Scandal to return?
The good news is Scandal has already been renewed for a sixth season. Not surprising, as the show is ABC's most watched and top-rated out of their lineup. The bad news, though, is that a definite date of the sixth season premiere has not been announced. This, too, is actually not surprising as Kerry Washington is pregnant with her second child. It makes sense that Shondaland will have to figure out how to deal with this pregnancy on the show.
In case you forgot, Kerry Washington was pregnant during the taping of Scandal's third season. Shonda and co. handled it by...not really handling it. Washington spent the season behind tables and lamps and the Scandal crew did some camera witchery in order to hide her (eventually obvious) pregnant body.
A date might not be set because Scandal writers need to think about how they are going to handle Washington's pregnancy this time around. They probably have ideas for the season – will they have to change the plan to accommodate Washington? Will they avoid the pregnancy all together, or will it become part of the narrative?
A pregnancy is not the only possible story the writers need to consider. It was just announced that Jake is joining Mellie as her running mate for the Republicans, and Cyrus is joining Gov. Franscisco Vargas on the Democratic side. While the presidential race was a big topic in this half of the season, it's just getting started. Olivia is driven to get Mellie to the White House – whether she succeeds, we have to wait until next season. For now, we'll sit tight and be assured that while we don't know exactly when, Scandal will definitely return.