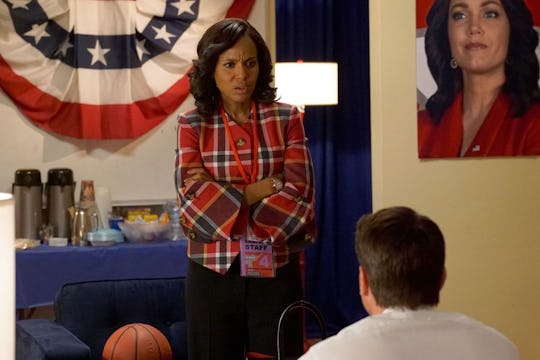 Byron Cohen/ABC
When Does 'Scandal' Season 6 Premiere? Olivia Pope's Return Is Almost Here
Gladiators get ready to grab your wine and popcorn. The long awaited return of Scandal is almost upon us and you won't want to miss it. So when does Scandal Season 6 premiere? The sixth season will begin on Jan. 19 at 9 p.m. ET, airing right after Grey's Anatomy. The return of Scandal also marks the full return of Shonda Rhimes' TGIT programming, which was sorely missed in the fall. Now fans can enjoy their regular three hour block of Shondaland, which caps off with How to Get Away with Murder.
It's been a while since fans last saw Olivia Pope and her associates, which means you may have forgotten everything that went done in the previous season and trust me when I say there was a lot that went down. The season began with Olivia and Fitz finally being a full-fledged couple and even involved them coming clean to America about their infidelity. However, by the time the season ended, the on-again, off-again duo were once again off, and Olivia was more or less involved with Jake. It was a long journey to get to the Season 5 finale though.
Fans watched as Olivia and Fitz's relationship played out in the public eye until Olivia decided to end the relationship when she realized she didn't want to be relegated to being just the First Lady. She wanted, and needed, to be more. So while Mellie made her first big move as senator by doing a filibuster to support Planned Parenthood, Olivia got an abortion and then moved out of the White House and back into her apartment.
Besides Liv's love life, the major plot development of the season was the presidential election, and viewers saw the fictional primaries play out along with America's real ones. On the Democratic side was newcomer Frankie Vargas who Cyrus had found and cultivated into his own perfect candidate (which eventually paved the way for becoming the VP candidate). On the Republican side was arguably a Donald Trump lookalike in the form of Hollis Doyle, along with Mellie and Susan Ross. Liv was able to knock out Doyle pretty quickly, using his own words against him, and then in a private meeting in the Oval Office, secrets were ousted to see who would be the best candidate.
This pitied friends against friends when Abby found herself on Team Ross while Liv was on Team Mellie. Despite the rift between friends, though, Abby kept Liv's abortion a secret from Fitz, allowing Mellie to get the Republican nomination. Fans then saw Liv basically force Jake into being Mellie's VP, thus turning her into the woman her father always wanted her to be, which is where the season left off.
A lot more went down in Season 5 but thanks to Netflix you can rewatch the whole last season now. Better catch up soon though. Scandal will be back before you know it.