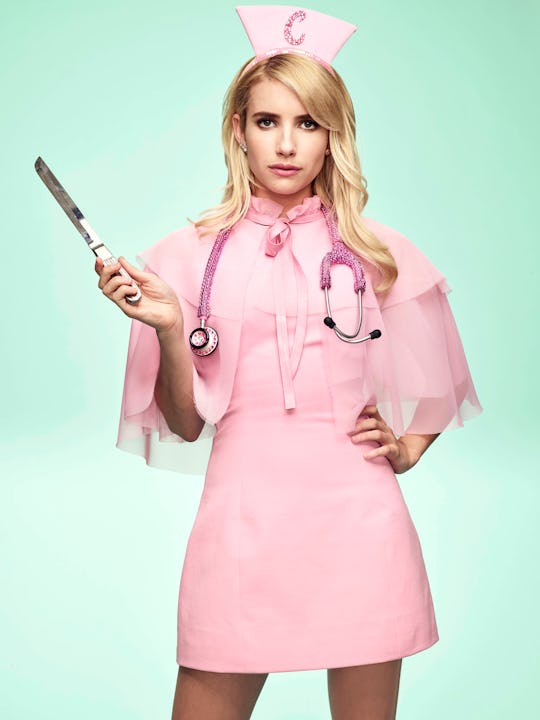 Tommy Garcia/FOX
When Does 'Scream Queens' Return? 5 Episodes To Rewatch That Will Scare You
Scream Queens' episode schedule has been kind of all over the place in its second season. It skipped a week after its first two episodes aired, then aired two more, and now it's taking another break because of the 2016 World Series. That's why the show's Halloween episode aired kind of early, and unfortunately why its cliffhanger will hang on for a little while longer. Thankfully the wait isn't too bad, even if it does kill the momentum just a bit. So when does Scream Queens return?
Scream Queens will be back on November 1 with "Chanel Pour Homme-icide," an episode that will deal with the fallout of Halloween and the murders that have been rampant at the hospital all season. Instead of scaring off potential patients, it brings even more people to the C.U.R.E. Institute, despite the fact that people rarely get cured there. But if you need another dose of Scream Queens before the show returns, both seasons are available to rewatch on Hulu. Seasons 2 and the Season 1 finale can also be found on FOX's website.
But if you're looking to really get into the Halloween holiday spirit, here are 5 of the show's creepiest episodes.
Season 1, Episode 4: Haunted House
The fourth episode of the series was big on the gross-out shocks that went on to be a big part of the show. After Chad and Hester engage in some unsettling cemetery flirtations, they make their way to a haunted house to hook up but end up running scared after discovering all the dead bodies inside – and after Hester puts her hand through one of the corpses. It is a real yikes moment. The episode also features flashbacks to burying dead sorority girls and the first appearance of Chanel-o-ween.
Season 1, Episode 6: Seven Minutes in Hell
In addition to the throwdown with the Red Devil in the secret passageways underneath the sorority house, this episode has the distinction of featuring one of the show's more unusual deaths: when poor Rodger (or is it Dodger?) dies thanks to nail gun puncture wounds to the face. On the fun side, it's the episode with the ridiculous Kappa slumber party and the girls' half-hearted rescue by Chad Radwell.
Season 1, Episode 9: Ghost Stories
The ever-delightful Denise Hemphill spends this episode trying to comfort girls who are being chased by a murderer by telling them ghost stories, which is...maybe not the best game plan. But there are still a series of stories to enjoy, as well as a vengeful Chanel pushing Hester down the long, long staircase at the very end. If only it was that easy to get rid of her.
Season 1, Episode 10: Thanksgiving
Alright, alright: "Thanksgiving" may not provide the most scares, but it does feature the entire Radwell clan, making it worthy of a rewatch for that if nothing else. There's also the gasp-worthy final moment when the entire cast of characters sits down to enjoy their dysfunctional Thanksgiving dinner and instead finds Gigi's severed head on a plate.
Season 1, Episode 3: Warts and All
While the scare factor here is minimal, the ick factor is high, making this episode skin-crawling for anyone who's sensitive to body horror. It isn't only the case of the week, which features a young man named Tyler with a skin condition that makes him look like every inch of his body is covered in blisters (or, conversely, like the Thing from the Fantastic Four), it's the death-by-laser that was initially intended to save him. Throw in the 1986 Halloween party slaughterfest, and you've got one physically unnerving episode.
Admittedly Scream Queens is known more for its laughs than its scares, but these episodes should provide at least a moment or two that make you shudder.