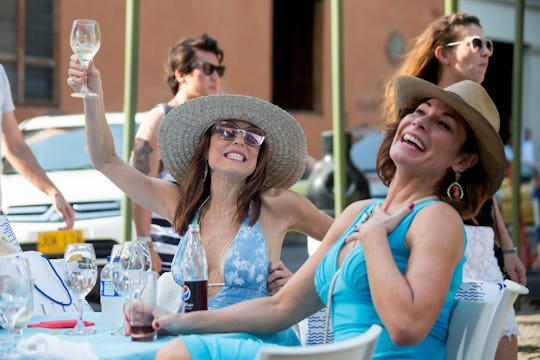 Paul Cheney/Bravo
Here's When 'RHONY' Season 11 Is Likely To Premiere
The Real Housewives of New York season finale airs August 15 and although we still have a few weeks' worth of reunion shows left to get through before the season is officially over, fans are probably wondering: when does Season 11 of RHONY premiere? The good news is, the show has been on a pretty reliable schedule for the past ten seasons, so we have a good guess as to when it will return, even though no official premiere date has been set.
RHONY typically premieres in the spring, and the last four seasons have all premiered in the first week of April. So it's a safe bet that Season 11 will probably drop in the first week of April 2019. This season was a particularly tough one on the Housewives, however, so it could be possible that they'll take an extended break before heading into next season, pushing the season back by a few weeks. But Bravo cameras will probably want to capture every moment of the recovery.
The most recent tragedy, capping off an especially rough season, is, of course, the death of Dennis Shields, Bethenny Frankel's on-again-off-again boyfriend. He was found dead in his Trump Tower apartment on August 10 of a suspected Oxycontin overdose, according to Page Six. Bethenny attended his funeral on August 13 and posted an Instagram tribute to him and her dog Cookie, who also died last year.
The reunion show has already taped, so we won't necessarily get to hear about how Bethenny's doing in the aftermath of her loss, although it's that possible RHONY will include a statement from her about it in its end-of-season epilogue. We also won't see Luann de Lesseps at the reunion show, since she opted to do another round of treatment in a recovery facility just ahead of its taping. She's expected to spend at least 30 days there, according to E! News, exactly six months after her first 21-day stint in rehab following her arrest last New Year's Eve.
Luann's relapse was apparently brought on by a lawsuit filed against her by her ex-husband and two children over the sale of the couple's $8 million home. Proceeds from the sale were supposed to be put into a trust for Noel and Victoria, but Luann allegedly misappropriated the funds and spent some of the money.
An anonymous source told E!:
She was having a very hard time with the drama of lawsuit surrounding her, and has been reflecting on all of her bad mistakes recently and completely hit a wall. She definitely thought she could handle incorporating alcohol back into her life casually, but eventually spiraled out of control.
Bravo supported Luann's decision to skip the reunion, releasing a statement in response saying that they will always stand by her and hoped people would respect her privacy during this time. Add on top of all this the cast's physically draining trip to Cartagena this season, and it would make sense for Bravo to give the women a little extra time to recover before Season 11. But the show will likely go on.