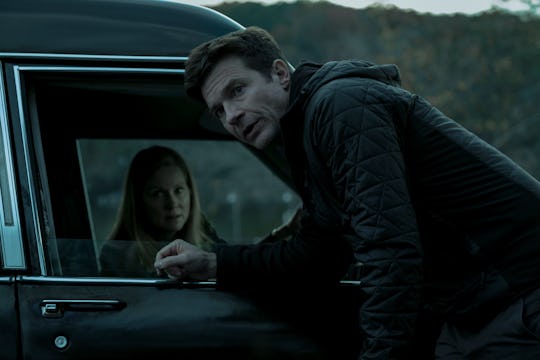 Jessica Miglio/Netflix
Here's Everything We Know About 'Ozark's Future On Netflix
Everytime you think things can't get worse for Marty Byrde and his money laundering family, some criminal comes along to thrust his life into a more complicated situation. He's in the thick of it with the cartel at his throat, local criminals on his tail, and millions of dollars of cash to clean. Season 2 of Netflix's hit drama, Ozark has been riveting, and fans just can't wait to see how (or if) the Byrde family gets out of this mess. So when does Season 3 of Ozark premiere?
As of now, there is no official word on a Season 3 renewal, but all indications point to a fruitful future for the show. If Ozark is renewed, the third season should hit Netflix in the fall of 2019. Season 1 debuted in July of 2017, with the second season premiering in August of 2018. If these past premiere dates continue as the model for Netflix's release schedule, Season 3 should premiere around August of 2019 .
But unlike the many fan favorites that seem to get axed despite their loyal fan followings — like Timeless and Unbreakable Kimmy Schmidt — Ozark has a good chance of getting renewed. For one, the show has earned four Emmy nominations this year, including Outstanding Lead Actor, Director, Cinematography, and Production Design. The series has also garnered one Golden Globe nomination for Jason Bateman (for Lead Actor), two SAG Award nominations for Bateman and Laura Linney (for Lead Actor and Actress), and a Writers Guild nomination for Best New Series. The Emmys are slated to air later this month — on Monday, Sept. 17 — and if Ozark picks up any of the big awards, Netflix will likely keep the show around for at least another year (if not more).
Most networks rely on buzz and ratings to determine a show's future viability, but Netflix usually operates on an internal system, rarely releasing any rating information. But the streamer seems to stay loyal to their most popular shows — like The Crown and Stranger Things — so with its critical acclaim and accolades, Ozark should be safe from cancelation.
The series' showrunners have been pretty vocal about their future plans for the show, and in an interview with The Hollywood Reporter, the show's writer and executive producer Chris Mundy revealed his vision for subsequent seasons. "We've always talked about five," he told the outlet. "Four would be fine, six would probably be fine, but it's always felt like that's a good number to tell the story."
Bateman — who plays the leading role as Marty — serves as the show's director and executive producer, and in an interview on The Ellen Show, he also discussed a potential future for the series. When telling Ellen about his future filming schedule, Bateman said, "Ozark looks like – God willing – it'll be going for a little bit, so that'll be six months of the year." With optimistic statements like this coming from both Mundy and Bateman, it's safe to assume that Netflix is planning to renew Ozark for a third season.
So if you are a fan of Ozark, you should keep your fingers crossed and wait for an official renewal announcement from Netflix. Until then you can root for the series at the Primetime Emmy Awards on Sept. 17, with hope that it wins one of the big awards like Lead Actor or Director. I know it won't be easy waiting an entire year for Ozark to return, but if you consider the complicated mess that Marty Byrde has to work through on the show, waiting doesn't seem that hard at all.