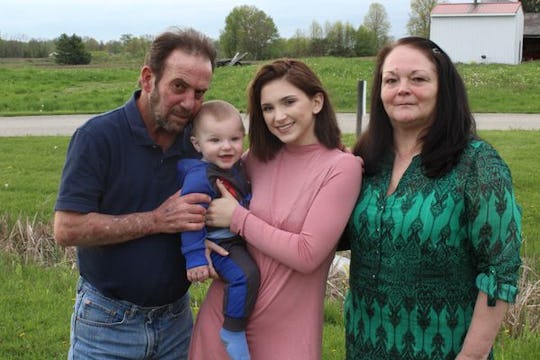 TLC
Fans Can't Wait To See 'Unexpected' Teen Moms Reunite For A Tell-All
TLC's series Unexpected has been on the air for two seasons, and viewers are anxiously hoping for a third. The reality show follows a group of young moms, their boyfriends, and their families during their unexpected journey through teen pregnancy. Season 2 just ended, and fans can't wait to dive back into the riveting lives of these teens. So, when does Season 3 of Unexpected premiere?
As of now, there is no official confirmation for a third season, and TLC has yet to announce a release date. But if the show is renewed, fans can expect to see it premiere sometime next year. Season 1 debuted in November of 2017, and Season 2 premiered this past August, so if the show's production sticks to its previous schedule, Season 3 should premiere sometime in the fall of 2019. Of course, this is just a guesstimate, and fans will have to wait for an announcement from TLC for an exact date.
But in the meantime, viewers can catch up with the Season 2 teens and their families on the "Tell All" reunion special. In a trailer, you can see all the teen moms from Season 2 — McKayla, Lexus, Emiley, Chloe, and Laura — along with their boyfriends and families get together to talk about what went down this past season, and how they are doing currently. Talk show host Ricki Lake hosts and mediates the discussion, so you can expect that some hard-hitting questions will be asked.
In the teaser, posted to Eastern Television's (the studio behind Unexpected) Instagram page, you see Lake ask Lexus a pretty personal question. During Season 2, Lexus revealed that she had been dating a woman while maintaining her relationship with boyfriend Shayden. "What if you didn't have a baby with him [Shayden]," asked Lake. "Would you be with a woman then?" Lexus seemed genuinely pensive, and answered, "I don't know." Viewers will have to watch the entire episode to see if Lake presses Lexus anymore on the subject, and what impact, if any, it has on her relationship with Shayden.
Emiley and and her boyfriend Diego are also seen hashing out some issues in the clip, with the teen mom tearing up over the fact that Diego doesn't help out with their daughter, Aria. Fans will also get an update from McKayla and her boyfriend Caelan, who revealed that they are expecting their second baby during Season 2. All the parents and grandparents from the season will also reunite on stage with Lake, and it will be interesting to see how their dynamics have changed since the show aired.
While there isn't an official date for Season 3, viewers can stay up-to-date on the teens' lives and their parenting journeys through their various social media accounts. Emiley has her own Youtube vlog that she updates frequently, and McKayla has a Youtube channel where she posts weekly updates. Lexus has an Instagram page where she shares pictures of Shayden and her daughter Scarlett, and Chloe has a Youtube channel where she posts videos about her baby, Ava, and the struggles of being a teen parent. The only married teen on the show, Laura, also has an Instagram page and a Youtube vlog, where she shares videos about life as a teen mom with her baby boy, Lucas.
Perusing the Unexpected cast's social media pages might help ease fans' FOMO until Season 3 drops, and the reunion episode should also answer some pending Season 2 questions.
The "Tell All" episode of Unexpected airs Sunday, Nov. 4 at 10 p.m. ET on TLC.