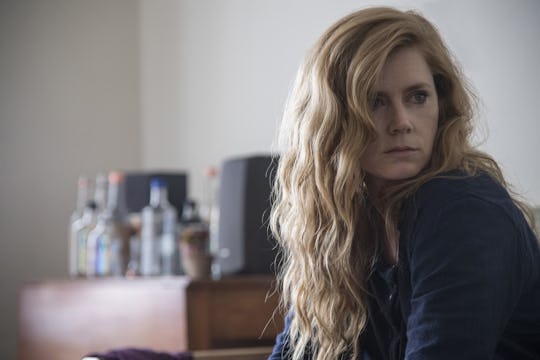 Anne Marie Fox/HBO
This Is When We'll Finally Get To See 'Sharp Objects'
If Big Little Lies and True Detective had you hooked, HBO's newest series, Sharp Objects is set to add some mystery and suspense to your summer. The eight-episode drama series has an all-star cast including Amy Adams, Patricia Clarkson, and Chris Messina, and is based on the 2006 novel by Gillian Flynn, the genius author behind the blockbuster novel and movie, Gone Girl. If you're a fan of dark dramas, this psychological thriller is sure to be your new summer obsession, but exactly when does Sharp Objects premiere on HBO?
Sharp Objects will be released as a limited drama series, and is set to premiere on Sunday, July 8 at 9 p.m. EST, exclusively on HBO. If you aren't familiar with Flynn's first venture into the world of eerie murder mysteries, you should know that Sharp Objects is much darker than Gone Girl. In fact, according to Entertainment Weekly, when Flynn first pitched the book to publishers in 2006, she was told "no one wants that kind of story."
But after the immense success of Gone Girl, Sharp Objects is also getting a chance to shine on screen. In collaboration with writer Marti Noxon and Emmy Award-winning director of Big Little Lies Jean-Marc Vallée, Flynn is finally bringing her thriller to HBO. As if the super star writing and directing team wasn't amazing enough, the series features a cast of award-winning actors, including the brilliant Amy Adams in the leading role.
So what is Sharp Objects about? Just like the novel, the series follows the story of reporter, Camille Preaker, who after serving a stint in a psychiatric facility for self-cutting returns to her hometown to cover a murder. The victims are two young girls, one who was murdered and one who has disappeared, but there is something about the case that brings Camille back to her childhood and forces her to face some of her own personal demons.
While covering the case and digging into her own sordid history, Camille is also dealing with her critical socialite mother, Adora, played by the amazing Patricia Clarkson. Camille also has a bratty half-sister Amma, played by Eliza Scanlen. The psychological thriller is set in a small, quiet town, which makes the family dysfunction and murder mystery look even more ominous.
When watching the trailer, you'll see that even from the few scenes shown, the series looks deliciously disturbing. While Amy Adams is seen returning home, a girl's voice is heard saying, "Mom says she saw a ghost once, I'm not scared of them ghosts. Are you?" There are tense clips of Adams creepily playing with a straight razor, spooky doll houses, big hairy spiders, a girl in a bathtub, and some blood. Then Patricia Clarkson is seen sitting on a couch being told, "We need to talk about your daughters, how one of them is dangerous, and the other one is in danger."
The trailer leaves viewers with so many questions. Are Camille and her sister involved in the murder somehow? What is hidden in Camille's sinister past, and why is this small town murder bringing it to the surface? Of course, if you've read the novel, you already know the answers, but I'm sure seeing the whole thrilling story play out on screen will be a treat. For those who haven't read the book, this series is definitely going to have you on the edge of your seat in suspense.
The series will be airing in Westworld's time slot, which airs it's finale on Sunday, June 24. So, if you're ready to watch what looks will likely become the next critically acclaimed, award-winning series, mark your calendars, because Sharp Objects is coming to HBO on Sunday, July 8.