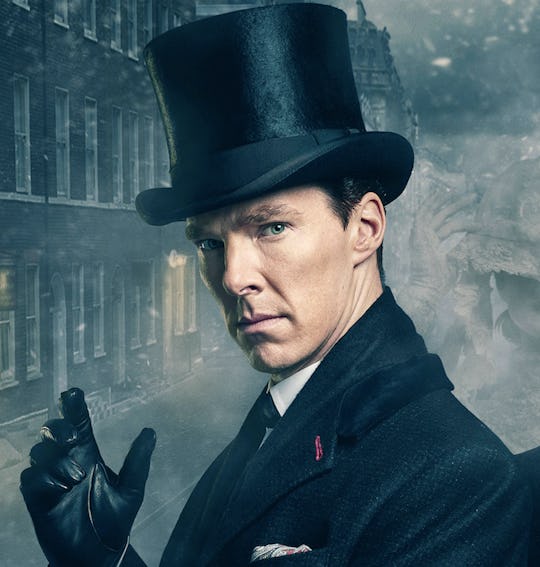 PBS
When Does 'Sherlock' Season 4 Return? The Wait Is Almost Over
Get excited, mystery fans! BBC and PBS Masterpiece just announced that Sherlock Season 4 is coming back! Obviously the immediate question is: when does Sherlock return? The good news? You really don't have that long to wait. Things are going to get moving before you know it — and this time around, everyone, everywhere, gets to enjoy the next season at the same time.
For the first time, the show will be released on the same day in the U.S. and the U.K. on Friday, Jan. 1, 2017. The usually large gaps in air dates between the U.S. and the U.K. have practically been erased "due to fan lobbying and widespread online piracy." Audiences have waited quite a while for the Victorian sleuth to return to the small screen, after all, the third season premiered in January 2014.
The Sherlock special is titled Sherlock: The Abominable Bride. PBS describes the episode in detail.
"Benedict Cumberbatch (The Imitation Game) and Martin Freeman (The Hobbit) return as Sherlock Holmes and Dr. Watson in the acclaimed modern retelling of Arthur Conan Doyle's classic stories. But now our heroes find themselves in 1890s London. Beloved characters Mary Morstan (played by Amanda Abbington), Inspector Lestrade (Rupert Graves) and Mrs. Hudson (Una Stubbs) also turn up at 221b Baker Street."
You can watch a trailer of it below! Fans will be happy to hear that the fourth season of Sherlock is also in the works. The first episode is called "The Six Thatchers" according to Deadline. Just like former seasons, the new one will fall in line with three episodes made up of "laughter, tears, shocks, surprises and extraordinary cases."
However, I wouldn't be surprised if it was a long time before we saw a Season 5 due to Benedict Cumberbatch's rise to fame with his upcoming film: Doctor Strange.
The production has also released a new teaser image showing Holmes' violin with a broken string:
And in an interview with USA Today, Cumberbatch dispelled rumors of Sherlock's end. He stated that an interviewer "tried to make clickbait" by distorting what he said. "It is the last one for now. There's a big difference" the star clarified.
Cumberbatch went on to disclose the cast's active agendas, and what the future holds for the show.
"We love doing the show, and all I'll say about it is that we're all very busy. We're all doing other things now, and you have to see the fourth season to realize why for now it's not going to happen again in the same...regularity as it has been happening. But we'll see. Never say never, and when it's right, and if it's right, we'll do more."
So. there you have it. No period has been put on the show as of yet, right now the future of Sherlock ends with a hopeful ellipsis.