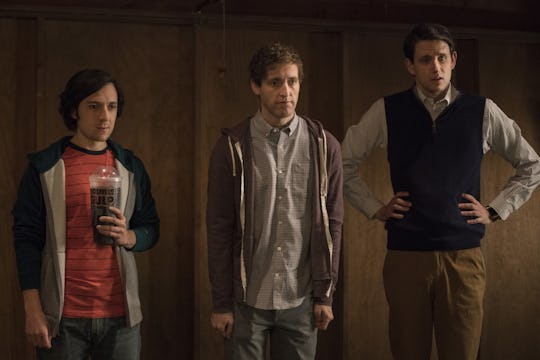 Ali Paige Goldstein/HBO
'Silicon Valley' Season 6 Is Happening, But When Will It Return?
The fifth season of Silicon Valley is coming to a close on Sunday, but thankfully this isn't the end of the road for the series. The popular HBO series was renewed for a sixth season in April, so the only question now is when does Silicon Valley Season 6 premiere?
It's much too early to have an official premiere date just yet, but if Season 6 falls in line with the past season you can expect it to premiere sometime in April 2019. Specifically, if HBO keeps it on Sunday nights, it'll probably premiere on April 7. However, that's not a definite date and to know for sure you'll just have to keep a lookout for the premiere date, which likely won't be announced until sometime next year.
No matter when the series returns, it's good to know that it will be continuing, isn't it? Fans were nervous at first about the continued success of the series, especially after original cast member, T.J. Miller, who played Erlich Bachman, exited the series after Season 4. Thankfully, despite his leaving, the series has continued to hold strong throughout its fifth season and it wasn't all that surprising that HBO decided to renew it for another season.
While the first four seasons of the show really saw the characters — Richard Hendricks (Thomas Middleditch), Bertram Gilfoyle (Martin Starr), Jared Dunn (Zach Woods), and Dinesh Chugtai (Kumail Nanjiani) — struggle to get their company off the ground, Season 5 was really about their success. Their video compression startup, "Pied Piper," was finally doing well and though the guys didn't go completely crazy with their newfound cash, they still had a good deal of fun with it.
Unfortunately for them, it looks like all good things must come to an end, because the preview for the finale seems to indicate that all the success Pied Piper was seeing was a fluke. When Bertram breaks down the company's users there's a large column of people who are unidentified. That's when Dinesh reveals what's called the "fifty-one percent attack." Apparently, someone can delete all the company's users and pretty much ruin Pied Piper. So yeah, it's kind of a big deal.
According to the episode description, the team will have to "race against the clock" to protect Pied Piper's future, but will they be able to do it? Of course you'll have to tune into the finale to find out for sure, but whether or not they're ruined or somehow find a way to turn this back around, at least fans can rest assured knowing there's more to come in the next season. This could be especially comforting if the finale ends on a cliff hanger, which it sounds like it just might!
Besides the fate of Pied Piper being up in the air, the finale will also find Richard making a surprising move. Apparently he'll finally realize that in his climb to the top he's made more enemies than friends, and this move will be an effort to rectify that. However, knowing Richard, he'll probably go about this the wrong way and end up making things worse for himself. But then again, who knows? Maybe Richard will surprise viewers.
No matter what happens, the season finale certainly sounds like it'll be interesting and a fun watch. Whether or not things work out for the guys or everything falls apart, it will undoubtedly be just as hilarious as every episode that's come before it. So make sure to tune in for the Season 5 finale of Silicon Valley on Sunday, May 13 at 10:30 p.m. EST on HBO. You definitely don't want to miss it!